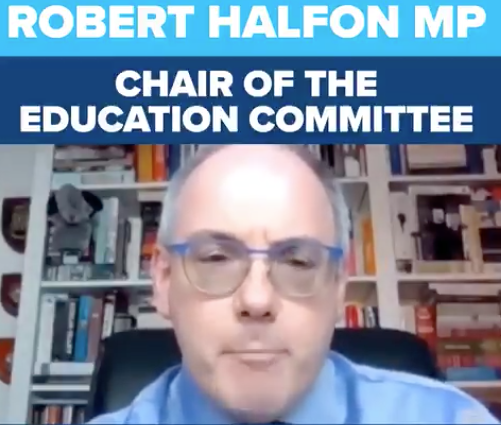 HARLOW MP Robert Halfon has written an open letter to all local residents setting out his reasons why Harlow schools should re-open.
===
Dear Resident,
Thank you for your email about the reopening of schools. I have received a significant number of these emails and will respond to them in the same way.
The first thing I would like to say is that I have a passion for education. In normal times, I try and visit a school almost every Friday to get a better understanding of the pressures facing teachers and support staff, as well as to give assemblies to children in Harlow. These visits are always inspiring, seeing the extraordinary work that school staff do to ensure that the children receive the best possible education and pastoral care. It has also been a pleasure to meet with a significant number of school children and teachers that have visited me in Parliament on a tour.
As soon as restrictions permit, I would be pleased to come to any school and talk to teachers, parents and support staff about any issues you would like to raise.
On the question of reopening schools, you may be aware that in my capacity as elected Chair of the House of Commons Education Committee, I have organised an all-party letter to the Education Secretary about the importance of PPE for teachers and support staff who are looking after children in vulnerable settings. This can be found here and is also attached to this email. My Committee has also questioned both the Children's Minister and the Education Secretary about PPE (available here and attached) where I asked:
"We know that support staff are often the unsung heroes of the lockdown and without them none of the schools would be able to remain open. The Government's guidance says that PPE is not needed in most cases, yet acknowledges that social distancing is harder to maintain in education settings. How are the Government reconciling these two positions and are they contradictory? What is the scientific basis for saying that most teachers or support staff do not need PPE?" – to the Education Secretary, 29 April 2020
Last week, as a guest member on the House of Commons Science and Technology Committee on 13 May 2020, I asked the Department for Education's Scientific Adviser about the science behind the decision to reopen schools and the thinking around the socio-economic impact on vulnerable children. The transcript of this session is attached and can be found here.
Since that time, I received a letter from the DfE Scientific Adviser, in which he said:
"I have full confidence in the plan to reopen education institutions for all the reasons set out by Government, subject to the conditionality of the five tests, including a decreasing transmission rate. I was involved in the development of all parts of the guidance recently published by the Department for Education and fed in at various stages. The final clearances from a scientific perspective ultimately rest with Public Health England and the Chief Medical Officer and those clearances were secured in full…
"…Throughout, the Department for Education has been led by the science at all of these key decision points and that will continue to be the case throughout this pandemic." – 13 May 2020
Some of the Government's advice on the reopening of schools is available here. The Deputy Chief Medical Officer has said that the likelihood of anyone having coronavirus in a primary school is very small and diminishing:
"There's a lot of anxiety around this but people need to think through in an average infant school with 100 children, the likelihood of anybody having this disease is very small and diminishing with time, so I think we just need to keep that in perspective." – 16 May 2020
On 19 May 2020, the World Health Organisation's chief, Dr David Nabarro told Sky News that it is safe for schools to reopen next month and offered his support for a phased reopening:
"There will be risks but it is a case of balancing those risks. You don't want children staying at home and missing out on school for a long time… We have teachers in the family and they're talking to me about it a lot. Then yes, I think we should start doing it and doing it gradually and see how it goes… Bit by bit I think is our advice."
A meeting of EU Education Ministers on Monday 18 May 2020 confirmed that there has been no significant increase in coronavirus infections after schools in 22 EU countries were reopened.
Like many teachers, my huge concern is what is happening to vulnerable children across Harlow during this unprecedented pandemic. Some of the national figures show that, despite the remarkable efforts of our teaching and support staff, the disadvantage gap may widen considerably during school closures. 55% of teachers from the most disadvantaged schools think the average pupil in their class is learning for less than one hour a day. Two thirds of children have not taken part in online lessons during the coronavirus lockdown. An estimated 60,000 children in the UK lack any internet connectivity at home, while 700,000 are in homes lacking any laptop, desktop or tablet. Close to 90% of vulnerable children are not in school during COVID-19.
This is why the Children's Commissioner, Anne Longfield, has suggested that schools should be opened in a cautious and deliberative way and has pointed to evidence from 62 hospital nursery schools which have remained open, none of which have reported transmission of the virus. Her full statement is available here, where she says:
"We know there are thousands of vulnerable children who need to be in school… The decision to bring back children from Reception, Year 1 and Year 6 first is sensible, as these are the year groups who need to be in school most urgently… We cannot afford to wait for a vaccine, which may never arrive, before children are back in school. It's time to stop squabbling and agree a staggered, safe return that is accompanied by rigorous testing of teachers, children and families." – 16 May 2020
In an article in the Guardian written by the consultant paediatrician and Chief of Mental Health at Great Ormond Street Hospital, Lee Hudson wrote:
"As much as they try, all parents – including my wife and I – cannot educate as well as schools. Whilst for a short period that might have small influence for some, for many children this is potentially a disaster. The negative effects of adverse social determinants of health in children, in particular education, is well established. Children carry the effects on their physical and mental health throughout their lives, and as such childhood and adolescence are key windows for many life outcomes Right now, that gap is almost certainly widening with effects for many years to come…
"…We find ourselves as individuals and as a society having to make decisions without exact certainty on what the best thing is for children. On balance, in my view, that is a structured return to school for children, and that goes for mine too." – 17 May 2020
This view has also been supported by former Labour Education Secretaries. Lord David Blunkett told BBC Radio 4:
"It's about how we can work together to make it work as safely as possible. Anyone who works against that, in my view, is working against the interests of children…
"…It's only one in seven of the most vulnerable children who are actually getting educated…some children are actually getting nothing."
In the attached article for the Mail on Sunday, he also wrote:
"Schools are already reopening in countries such as Denmark, France and Germany, and the broadest scientific advice suggests that children are at little risk."
Another former Labour Education Secretary, Alan Johnson, told LBC children need to go back to school:
"Primary school kids went back in Denmark a month ago and they went back safely. There's a huge amount of evidence there. France are going back, Holland are going back…
"…I've got lots of criticisms of the government about the way they are handling this, but what they are saying is this is a very limited return from 1st June and I think this is a measured approach."
I am holding regular discussions with the teaching unions to understand every perspective. I understand from the news that ASCL, the respected headteachers and college leaders union, has said that they do now believe there should be a phased reopening from 1 June, subject to the Government's tests and requiring some flexibility in the 1 June date. The General Secretary said that ASCL were "reassured by the feedback we received from government scientific advisers on Friday, and we continue to support our members in preparing for the reopening of schools from June 1." Their statement is available here.
I realise that reopening schools is an incredibly difficult decision and not one that should be taken likely. I am glad that the Government has said schools will not reopen if R (the rate of transmission) goes above 1. The Education Secretary has said:
"If the virus stays on the downward slope, and the R remains below 1, then – and only then – will it become safe to go further, move to the second step and reopen schools."
It is vital that the right PPE is offered to teachers and support staff and that the scientific evidence is available to them, as the Government has said. Testing has already been made available to all key workers, including school staff.
If, after schools reopen in this phased way, we see the R (rate of infection) go up, it is very clear that schools should be closed again.
I know that most schools have been kept open for children of critical workers and those that are vulnerable – and I thank you for that. I have spoken with a number of nursery providers in Harlow who have said that they are willing to open on 1 June and could host Reception classes if there are difficulties in the school. I am also very aware and strongly welcome that no teacher or support staff who is sick, shielding or self-isolating should be in school.
I realise that whatever decision will be made is not an easy one but I hope we are able to square the circle and of course, I will always represent your views to the Government. Next Wednesday 27 May, my Committee and I will be questioning the Schools Minister, Nick Gibb, on all of these matters.
Thank you for all you do. I hope that you and your family and friends are in good health.
With best wishes,
Robert

Popularity: 1% [?]