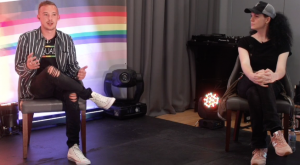 IF THERE was ever an event that encapsulated and celebrated Harlow's LGBT+ community then this was it.
Saturday's event was based at Harlow Playhouse and shown on-line via their own website and Facebook.
It was hosted by the wonderful Fanny Galore who proved to once again be a fantastic host. But there was also a serious side to Fanny as she told viewers that the event marked twenty-one years since she had come out.
There were a number of musical acts such as Jordan Gray, who starred in The Voice and has her own show on the Comedy Channel. This reporter was particularly taken by her version of You Can Call Me Al".
HipHopPop made an appearance as well as Aaron Carty's Beyonce Experience and a host of other acts.
There was also a fascinating discussion hosted by Harlow Playhouse's artistic director, Rory Davies.
After the event, we asked Rory how her felt the event had gone.
He said: "Harlow Pride 2020 was a great way to end our Pride themed digital programme that had been running through June. It was a great opportunity to celebrate and discuss what pride means both for Harlow Playhouse and our community!
One of the highlights of the day was the video messages sent in by the community!
"Not only was it Harlow's first pride celebrations but it was the first time Harlow Playhouse had ever live streamed an event of that scale. I'm really proud of my team at Harlow Playhouse led by Ben Parsley and our partners at Carve for making the day a success!
We hope Harlow Pride is something we can continue in the future! "