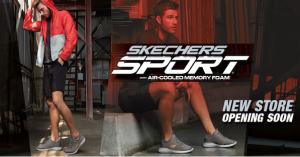 SKECHERS, major footwear brand, is set to open a new store at Water Gardens on the 21st August.
The big name American brand will be located between Clarks and Pandora.
Offering a wide range of women's, men's and children's shoes, the Water Gardens branch will be one of 3,000 Skechers stores worldwide.
Dionne Thomas, centre manager at Water Gardens, said: "We are thrilled to welcome Skechers at Water Gardens, it's a fantastic global brand that will complement the rest of our fashion retailers."