A HARLOW paralympian was incensed that his team of wheelchair athletes were left in a car park and not allowed to share a running track with able-bodied athletes.
Paralympian and world record holder, Richard Chiassaro told YH that his team of wheelchair athletes turned up to train at the Mark Hall Sports Centre (MHSC) off London Road on Wednesday evening (September 23rd).
Mr Chiassaro told us that they have had the Wednesday night spot for over a decade.
The team is full of very promising wheelchair racers, who compete both nationally and abroad.
Many racers are still at school but still, accompanied by their dedicated parents, make up to a hundred mile round trip, just to get to training in Harlow.
However when they turned up to training on Wednesday (September 23rd) they were allegedly told by centre staff that "Harlow Running Club want the time slot".
Mr Chiassaro went on to allege that the "running club don't want to share the track with us even though we had accommodated many of them in the past."
Mr Chiassaro was very angry and put his version of events on Twitter. He received a lot of support including responses from a number of high profile athletes including Paralympic Gold Medallists Hannah Cockcroft MBE and Richard Whitehead MBE.
Ms Cockcroft is a member of Leeds Athletics Club and fellow members of Leeds AC also went onto Twitter to point out that able bodied athletes and wheelchair racers have had no problems sharing their track.
But by Wednesday morning (September 30th), Harlow Council and Harlow MP Robert Halfon intervened to try and get an amicable solution.
YH was also told by the chair of Harlow Running Club, Andrew Kitson that he and Mr Chiassaro had been in discussion on Wednesday morning in order to get things (literally and metaphorically) back on track.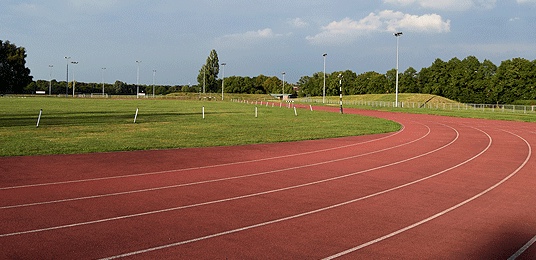 Councillor Frances Mason, Portfolio Holder for Governance, Equality and Diversity, said: "As soon as we were made aware of this issue last night contact was made with the Academy Transformation Trust and council staff and I had discussions with the trust today.
We welcome the news that a way forward has now been found and the issue has been resolved to the satisfaction of the Harlow wheelchair racing club.
The club led By Richard Chiassaro are an amazing asset for our town. We must ensure that clubs are always supported and able to thrive in our town and that everyone who lives, works or visits our town is given the opportunities to take part.
Without this club so many disabled wheelchair athletes including young athletes would not be able to take part.
"Harlow can be proud of its diverse nature and the voluntary, community and social enterprise sectors that contribute to making our town such a great place."
The centre is run by the Academy Transformation Trust (ATT), the Midlands-based organisation that also runs Mark Hall Academy. We have approached them for a comment but they had not replied at the time of publication.
The chair of Mark Hall Academy said: "Although MHSC is not part of my remit as Chair of Governors, I alerted ATT via Mark Hall Academy's principal, that there was a problem at the Sports Centre that needed addressing.

"I am pleased to hear that the matter of unintended double bookings has been resolved to everyone's satisfaction and that Harlow Wheelchair Racing Club will have their pre COVID booking on a Wednesday evening restored from next week.
A spokesperson for the trust said:
"Throughout lockdown, the track was officially shut but we gave priority access free of charge to any group who needed somewhere for their athletes to train, including those from the wheelchair group. We hope that this offer was helpful and we believe it was well-received by the groups who used the track through that period.
"Since restrictions were eased, we have welcomed all groups back but the centre has had to operate a new booking system to ensure it abides by social distancing rules. We have tried very hard to try to accommodate everyone's needs but unfortunately there was a double booking for the first week that the wheelchair group was back, and the time slot that the wheelchair group booked had already been taken. This was an error on our part and we are very sorry for the mistake.
"We have restored the wheelchair group's booking and hope that they are enjoying use of the facilities again."
============================================
Comments
Peter Mills
So in essence this was an error on behalf of the people responsible for the booking! NOT an issue of the running club denying another group a training slot! What shoddy reporting!!