FA Cup Third Qualifying Round
Harlow Town 5 v 1 St Ives
By Aaron Moore
HARLOW Town got back to winning ways and progressed to the 3rd Qualifying Round of the FA Cup as they eased past St Ives Town Ladies. Goals from Kaydee King, Georgia Box, Olivia Steele, Tayla Handscombe and an own goal was enough. The win was a great response to the club's loss last weekend and means Harlow have reached the 3rd Qualifying Round for the second consecutive season.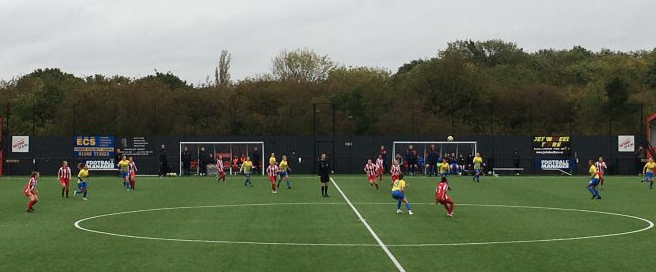 It was a fast start from Harlow and within the opening minutes, they were ahead. A corner was whipped in and met by the head of Kaydee King who headed home. A couple of minutes later, Elisabeth Manuel ran through the defence but a latch ditch challenge from Davina Smith prevented any shot.
The lead for Harlow was soon doubled in the 7th-minute as Olivia Steele scored. The fall fell to her from a corner and she struck it well, sending it beyond Kira Markwell. There was another shot from St Ives as Georgia Stancombe tested the keeper but it was well held by Lauren Nolan-Coggan. Harlow continued to dominate as they looked for further goals. Ash Deacon latched onto a loose ball but fired a shot over from a tight angle before Markwell managed to punch the ball clear as Kaydee King challenged for another header. Georgia Box added to the lead as she scored a stunning goal. As she ran in from the right-hand side, she struck a shot which hit the underside of the crossbar and over the line. The visitors pulled one back a minute after the 3rd goal as Ella Burnley slid in at the back-post, poking the ball past Nolan-Coggan after a superb cross.
Despite conceding, Harlow continued to come forward. Tayla Handscombe tried to slip a through ball through to Box but she couldn't quite reach it before Amy Nash cut through the defence but her shot was well held. Ives' Stancombe fired a shot over before Handscombe made a good run but her pull back was cleared and Ellie Manning's shot from distance was just wide. Shannon Moloney saw a free-kick well saved. From the resulting corner, Harlow extended their 3-goal lead through an own goal. The ball come down in the box and rolled off Abbi Griffin's leg and into the back of the net. Right on the stroke of half-time, Amy Nash tried her luck from distance but her shot bounced just wide.
It was another fast start as it was 5-1, 3-minutes into the second-half. Tayla Handscombe latched onto a through ball and finished well past the keeper. The goal had given Harlow confidence as they pushed forward. St Ives defended well to prevent Georgia Box running through before a free-kick from Tayla Handscombe was straight at the keeper. There were a few more chances but Harlow couldn't make the most of it. Box swung at a shot but it was comfortable for Kira Markwell before St Ives cleared their lines after a free-kick was launched into the box and Shannon Moloney's shot from outside the box was well held.
St Ives had a couple of chances themselves as they tried to find a way back. A shot was well held by Lauren Nolan-Coggan before Katie Stancombe was played through but her shot was tame and comfortable for the Hawk's keeper. Georgia Raby sent a good cross across the face of goal but no one was close enough to attack the ball before St Ives pressured again. A shot from Abbi Griffin's was wide of the target from distance before a shot was deflected out for a corner. The resulting corner was poor as it was out of play before St Ives could attack it. As the game approached the end, Abbi Griffins had another shot from distance but it was just over the bar. Harlow Town managed to hold on in the last 5-minutes as the referee brought the game to an end.
After a superb performance, added to by a goal to get the girls going, the player of the match was Kaydee King.
Speaking after the match, she said "It was much more like us today. We got the ball down and played football with some good combinations. Credit to St Ives who pressed and hunted us down. They didn't give up. It was a good win!"
[On importance of getting off to a good start] "It was very important. Once that first goal goes in, it puts us on the front foot and makes us more comfortable."
[On the next game] "Yeah, that's also very important [to carry the form into the next game]. Wroxham are a good side and its an away game so it essential we prepare in the right way. We need to take confidence as it's a long way to travel but we also need to start quickly [like we did today]!"