MUSICAL children are rediscovering their voices as they sing once again to take care of their mental health.

Since March last year, schools have been unable to run extra-curricular singing or music clubs due to Covid-19 safety restrictions.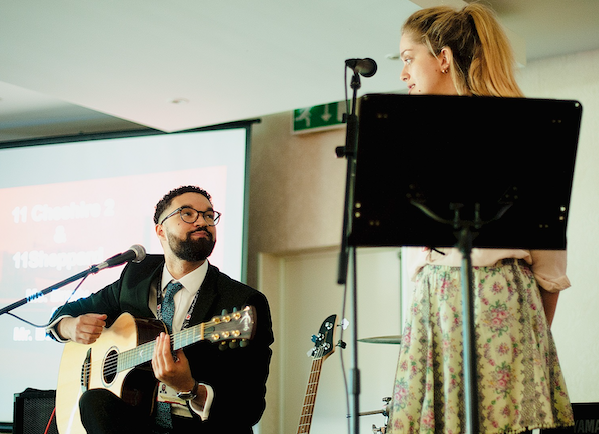 Realising the impact this had had on children's mental health and wellbeing, Burnt Mill Academy came up with a solution.

A senior choir was launched back in November to see whether it was possible to hold a singing club virtually.

It has proven so successful, the school has now opened the lockdown choir up to the whole school to join, as well as setting up a lockdown band.

Joe Beckwith, lead music teacher, said: "Throughout the pandemic, it's been clear that many of us rely on the arts to experience some joy and escape from the events of the past 12 months. Due to changes to the running of the school day, for the safety of students, we have been unable to hold extra-curricular clubs in person since the end of March.

"Now, we are able to meet weekly online, check in with students and get back to singing together at the end of the school day. We are engaging with our musicians and encouraging all students to get involved in music-making from the comfort and safety of their own homes.

"Students and parents have shared with us the positive impact singing has had on their mental wellbeing, particularly as social interactions have been so limited this year. We love creating music with our students, and we're just having to find new ways to do this."

Students record their voices and send them to Mr Beckwith to be mixed together with backing tracks created by him and their peers.

Year 11 student Josie said: "The past year has been difficult for everyone, especially in the entertainment industry. Now, it's more important than ever to take part in the arts as it's something everyone can enjoy.

"I have been lucky enough to be a member of the school bands for the past few years, and it's something I really miss. Band is a great opportunity to develop music skills and have fun. I've also found it really helped with my confidence, so I'm so glad it's starting online."

Ella Brady, music teacher, said: "This gives students the chance to let loose and relieve some stress. In times like these, we all need to stay positive, and what's better than coming together to have a little sing song."