By Dami Adewale
OVER the next few months, we are going to publish as many sports profiles as possible.
This week, we spoke to runner Danny Beazley, who, despite all the restrictions of lockdown has recently taken twenty minutes off his marathon time.
Danny Beazley – "I find it hard to run as quickly on my own"
ON April 3rd, Danny Beazley ran a time of 2:35:36 in the Dorney Lake Marathon. Beating his previous personal best of 2:45:39, this race was a lot different for Beazley.
Training started with an intense period of running 80 miles a week for 16 weeks. Christmas and just before the race saw Beazley scale back his preparation. This formed a part of an overall 22 week plan specifically devised for the marathon.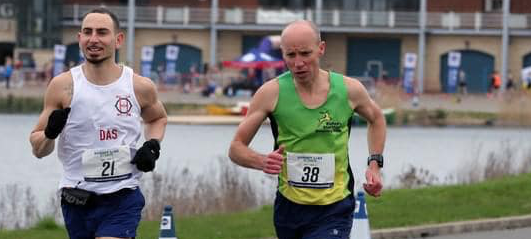 Beazley said: "The hard thing at the moment is training on your own rather than group training. It was a bit more challenging than a normal marathon.
"On the actual day itself, because of COVID restrictions it's a time trial start and not a mass start like in a normal race. That probably made it a little harder because you're not running in a group so you haven't got people to pace you round it. That's how it's going to be for the next few months, so that was different. It was just good to get my first race done in over a year."
Beazley has been running since he was 15, but only three or four times a week for leisure and to supplement other sports he was playing.
About five years ago, Beazley was looking for an activity that meant he could spend as little time away from his family as possible. Running became that activity, as he could go out with minimal equipment and get back home within an hour.
Beazley said: "Once I started to perform a little bit better, I wanted to see how good I could get at it. It starts to get a little bit addictive once you start getting faster times so I just started training harder and harder for it."
To stay close to home, Beazley joined Bishop Stortford's Running Club, the most local to him. However, he also has training sessions at Mark Hall Sports Centre with the Parkrun and Beyond group, which Beazley has described as invaluable.
The COVID-19 pandemic has meant Beazley has not been able to train at Mark Hall for a few months, but considering his latest marathon, this has not halted his progress at all.
Speaking of parkrun, Beazley's process consists of a run to Castle Park on Saturday, participation in the parkrun, and then a run back home which is just over ten miles.
In terms of his favourite parkrun, Beazley said: "Probably Wimpole Estate parkrun near Cambridge. Just because it's a tough course with a hill, so you're never going to have a fast time there. For pure scenery and a beautiful place to run, that was probably my favourite course.
"For a fast course, I think Hackney Marshes is probably the best course I've run, because it's dead flat and almost all tarmac. Also, it's a fast course so it attracts a lot of high standard runners, you'll always have a competitive race there."
A well-travelled athlete, Beazley has also competed in a number of races abroad. His most memorable race overseas was the Barcelona Half Marathon, just before the pandemic began last year.
Beazley competes across a number of distances, so his training reflects that. High endurance running with some speed work is his go to. He finds that a high weekly mileage gets him the best results, although that may not work for everybody.
As for his diet, Beazley tends to keep it pretty simple. Cereal for breakfast, sandwiches for lunch, that kind of thing. Dinners do tend to involve pasta or rice based meals, and his diet does not really include much read meat, more so chicken and tuna.
At 46, Beazley looks to those who are older than him and still performing at a high level as a source of motivation.
Beazley said: "There's one veteran who's at the running club I'm at now, Peter Beatty who set a lot of the club records. Just to try and achieve some of times that he's achieved is quite a challenge.
"He holds a lot of the veteran records and I've taken a lot off him now. People like that I look up to and I think of what he's done and what he's still doing, he's sixty something now, that's inspiring and impressive."
For the rest of the year, Beazley aims to compete in the London Marathon in October as he has qualified for the championship start. Smashing your personal best in your first race back in over a year is not a bad start at all.