"I would like to invest"
THE words primary school pupils were keen to hear as they presented their inventions to a panel of judges in an inter-school Dragons' Den competition.
The primary schools within BMAT – Cooks Spinney Primary Academy, Freshwaters Primary Academy, Little Parndon Primary Academy and Roydon Primary Academy in Harlow and Magna Carta Primary Academy in Stansted – battled it out in a celebration of science.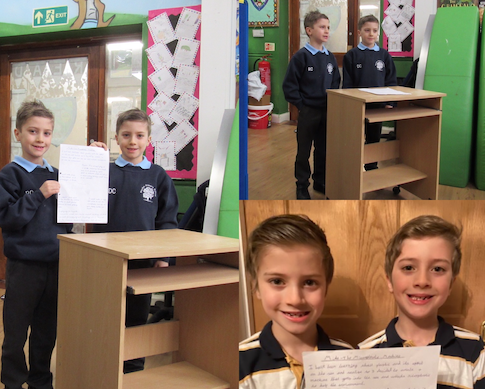 Pupils took part in heats at their respective schools, before finalists came together virtually to be in with a chance of being crowned the champions.
They recorded presentations to explain their inventions, showing drawings or carrying out demonstrations with prototypes.
Inventions – on the theme of Innovation for the Future – included a happiness machine, voice activated computer, a blue blood Covid-19 vaccine, puzzle for blind people and automatic door handle.
Jessica Kipps, science lead at Cooks Spinney, whittled 40 children down to the three finalists who represented the school.
She said: "I am overwhelmed with how many entries we had. It was amazing to see the children be creative with their inventions, ranging from flying boats to robotic devices to clean the house.
"Senior leadership were impressed by how confident and articulate the children were in their presenting and are eager to repeat this style of presenting in future projects."
Marios Solomonides, headteacher at Magna Carta, said: "The competition promoted innovation and aspiration, with an emphasis on science and technology.
"We asked pupils to look for a problem or an issue and to invent a solution. It could have been something to benefit the environment or to make life easier for someone. The important thing was for children to think critically, experiment and take positive risks.
"Enterprise and aspiration drive our curriculum at Magna Carta, therefore this competition fitted very well with our ethos."
Whitney Watson, class teacher at Roydon Primary, said: "All of the inventions our pupils came up with were amazing. It wasn't an easy decision to make, but only two inventions could advance to the next stage to represent Roydon during the Dragons' Den competition.
"Our finalists did an incredible job and amazed the Trust Dragons. Huge congratulations to everyone who got involved.
"We are super proud."
Aimee Budd, science lead at Little Parndon, said: "I am impressed with the children who entered our Dragons' Den competition, despite such an unsettling year.
"The entries were brilliant, but only two lucky winners received our golden tickets to go through to the finals.
"It was a great opportunity for the children to compete against other primaries within our Trust and meet them virtually. Being able to present their ideas to an audience took a tremendous amount of resilience, which is a strong value of ours at Little Parndon."
Jacinta Addison, science leader at Freshwaters Primary, said: "I was very impressed with the quality of the presentations and the effort shown by the children at Freshwaters.
"We had many children thinking of how they could improve the quality of life for other people and showing their concerns about the environment. Some of these inventions could easily be produced and sold all around the world.
"I was particularly impressed with James in Year 3 who invented a portable allergen testing device, so people with allergies can dine at restaurants with confidence."
And the winners are…
Reception / Year 1 – Cameron, Reception, Magna Carta Primary Academy, who invented the Cami Cushion
Year 2 / 3 – Dylan and Riley, Year 3, Roydon Primary Academy, who invented Mike – The Microplastic Machine.
Riley said: "I couldn't believe we were shortlisted, let alone won! There were such great inventions, it must have been really hard to pick. I loved James' food testing machine."
Dylan said: "I loved the blue blood that kills off any viruses. Then we could get back to normal quicker."
Year 4 / 5 / 6 – Carys, Year 5, Freshwaters Primary Academy, who invented a small portable device for blind or partially sighted people to wear to support with everyday life, such as choosing clothing and crossing roads safely.