CHILDREN at Fawbert & Barnard's Primary School won the inaugural Harlow & Gilston Garden Town's (HGGT) trophy for the Sustrans Big Pedal.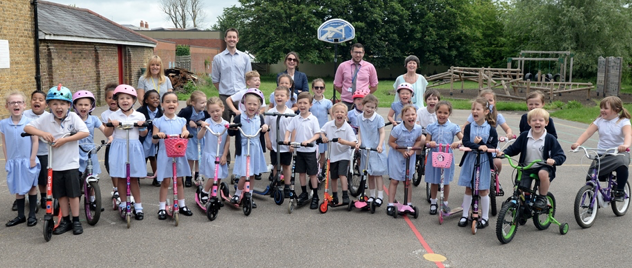 The competition encourages more children, parents and staff to walk, cycle, scoot and wheel to school. The school were the best performing school in Essex with 99% of schoolchildren travelling actively on their best day of the competition.
The school was congratulated by Harlow MP Robert Halfon. Mr Halfon said:
I would like to congratulate Fawbert and Barnard's Primary School on being shortlisted for Setting of the Year in the International Montessori Awards. Fawbert and Barnard's placed second overall.
This is a huge achievement and it is fantastic to see the school's efforts recognised. Further to this, Fawbert and Barnard's also came first in Essex for the Big Pedal. I understand that 86% of their pupils were either walking, cycling or scooting to school.
This is wonderful and it is great to see the school encouraging their pupils to be more active. The past year has been extremely challenging for schools and I am incredibly thankful to all of the wonderful teachers and support staff in Harlow for everything that they have done. The dedication that they have shown to their students is highly admirable and their ability to adapt to the difficulties caused by the pandemic has been truly inspirational."