Hardson Palmer, aged 16 and Tiana Hyder, aged 13 from Stewards Academy in Harlow are two of the winners of the annual Show Racism the Red Card School Competition.
The Competition has been running for 22 years and has become the biggest equalities competition in the UK with over 23,600 entrants this year from more than 340 schools.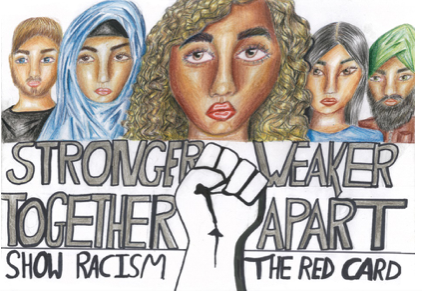 The Competition is free to enter for all young people of school age, and divided into artwork, creative writing and multimedia categories.
Hardson is a winner in the Year 10+ Category and Tiana is a winner in the Years 7 to 9 Artwork Category. They both also won separate memorial awards. Hardson had his artwork selected by Stuart Lawrence, brother of Stephen Lawrence for the Stephen Lawrence Foundation Memorial Award and Tiana was selected by Julia Regis, widow of Cyrille Regis for the Cyrille Regis Memorial Award.
Their work will feature in the 2022 Show Racism the Red Card Calendar and they will receive prizes from Kickers/Pentland, EA SPORTS, Hunter Boots & Usborne Publishing.
We are also indebted to Competition sponsors UNISON, the National Education Union, Unite the Union, the PFA, Potts Print UK and the FA.
Show Racism the Red Card is the UK's largest anti-racism education charity and is celebrating its 25th anniversary this year. Since its inception in 1996, they have educated and engaged with over 825,000 people.
Stuart Lawrence (Brother of Stephen Lawrence)
"To see the work and contributions to this competition was amazing and to pick one of them was super hard but I had to make a decision for one and I decided to go with Hardson Palmer from Stewards Academy. Well done for this amazing piece of work and I have also had to do a bit of research myself because I was unaware of some of the names that you included in the faces of the people standing around the slogans of BLM, so thank you for educating me and for shining a light on how many young people of colour lose their lives over trivial things as if our lives are less meaningful than others.
My brother Stephen was and my whole family is quite a creative family, so to see you use this media to express yourself about such a difficult, painful and personal matter for myself in this manner has been excellent to see and I do hope it is a way that you can continue to use your skills and talents to communicate to others, thank you again"
Julia Regis (Widow of Cyrille Regis)
"The events of the last year or so have shown us that we cannot eradicate racism unless everyone plays their part. Tiana's artwork conveys this message loud and clear whilst also reminding us of the beauty in diversity. Well done Tiana."
Please find the photos attached for your use. If you need any further information please contact [email protected] or [email protected]