ON Friday 13 August, Lord's, the Home of Cricket will once again turn red for the Ruth Strauss Foundation's annual #RedforRuth day. Test Series title partner LV= Insurance has kindly dedicated the entire Second LV= Insurance Test Match to the charity, helping raise awareness of its mission across all five days and supporting #RedForRuth day on day two.
Local club Tye Green CC will be doing its bit to support this crucial fundraiser by turning the last home game of the season red on 31st July. They hope to raise [£500 by we will be donating all proceeds from the game and sale if drinks and food and are inviting the local community to support their efforts.
Club chairman Peter Jackson says "We are delighted to help such an important cause and will be doing our best to raise as much money as possible for families facing one of life's toughest tests. We'd love the wider community to help us raise as much as possible and join us in going #RedforRuth."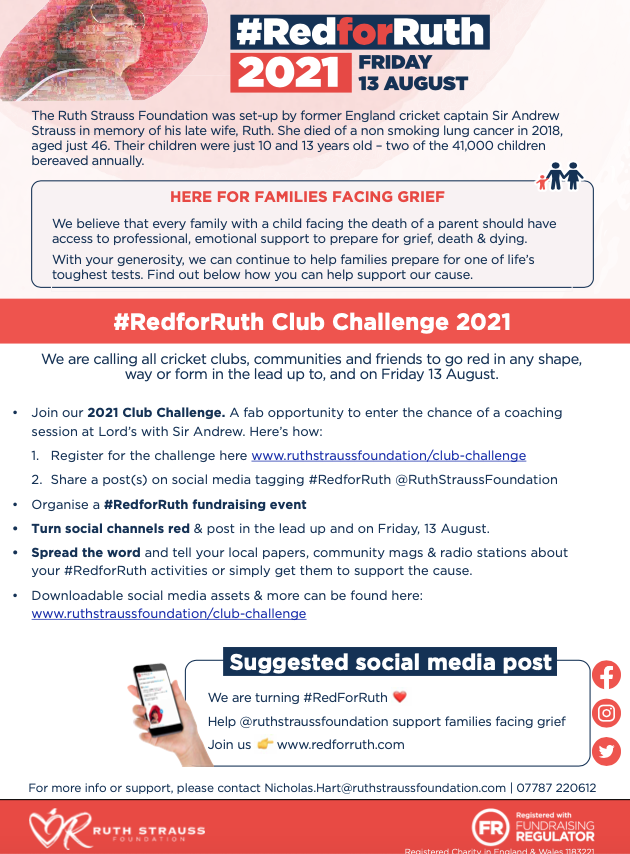 The Ruth Strauss Foundation was set-up by former England cricket captain Sir Andrew Strauss in memory of his late wife, Ruth. She died of a non-smoking lung cancer in December 2018, aged just 46. Their children were just 10 and 13 years old – two of the 41,000 children who face the death of a parent annually. In the UK more than 23,600 parents with dependent children die each year. The charity believes every family with a child facing the death of a parent should be offered professional, emotional support to prepare for the future.
This year's #RedforRuth campaign will raise awareness of the charity's new Family Support Service – a vital service that provides much-needed pre-bereavement support for families with dependent children, where a parent is told they don't have much longer to live, and helps families prepare for grief, death and dying. Without the right support, families can struggle to process grief and this can particularly affect children's future wellbeing. A research study showed approximately half of the children who face the death of a parent from cancer experience unresolved grief up to nine years later.
With the kind generosity of the cricketing family and wider public, the charity hopes to extend their support service to thousands of families nationwide plus launch its training programme for healthcare professionals. Research found that healthcare professionals feel ill-equipped to support families where a parent has an incurable diagnosis. The programme will help them be more confident in supporting families when they need it most.
Sir Andrew Strauss says, "Ruth was determined to – in her own words – "do death well". She knew we needed support to help us understand and navigate the best way to break this life-changing news to the boys. By being transparent and open about what was happening to Ruth, we enabled the boys to feel comfortable to share their worries, questions, grief and fears for the future. As a result, they could continue living their busy lives, feeling confident that they knew what was going on, and in some way knowing that they would be OK after Ruth's death.
"We are grateful for the ongoing support of the cricketing family and wider public. It's through people's generosity that we are able to bring Ruth's vision of supporting families facing one of life's toughest tests to life. Through the work of the Foundation and the launch of the Family Support Service we can give families who find themselves in a similar position to ours the help and guidance that is so badly needed."
For more information, visit: www.ruthstraussfoundation.com