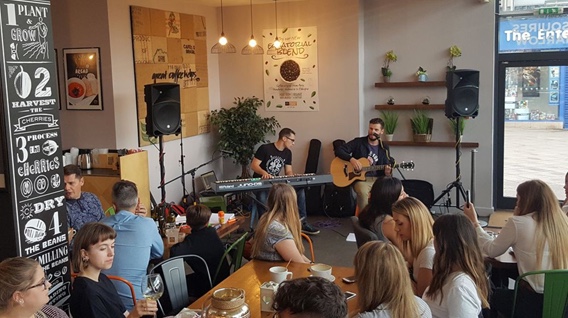 PLANS to change a Water Gardens coffee shop into a restaurant are set to go before the Harlow Council planning committee.
The application relates to Esquires.
Proposal
The proposal is to change the use of the café (Use Class E(a)) to a restaurant and bar (Use Class E (b) and Sui Generis).
Floor plans have been submitted with the application and these show a kitchen and food preparation area, toilets including a toilet for disabled people, a serving counter and seating on the ground floor and a bar, toilets, a small storeroom and a seating area at first floor.

Apart from new signage, which presumably would be the subject of a separate application if consent is needed for it, no external alterations to the building's elevations are proposed. The proposal would involve the insertion of a mezzanine floor which would be the bar element of this proposal (Sui Generis), but this would not require planning permission for the physical works.
The application forms indicate there would be no increase or decrease in the number of people employed on the premises. Although there is a question on the application form asking about opening hours of the business, the forms indicate these are not known at this stage.
Objections
There has been a number of objections to the proposal.
Summary of Representations Received
LOSS OF USE – Loss of only decent coffee shop in Harlow with a lovely community feel used by a range of people, bars only serve a niche market and do not enhance the area or add to the community, amazing venue that is such a good local business, brings members of the community together, supports local charities, we need to support local businesses especially after a year of businesses failing, Harlow does not need more overpriced chain restaurants but small businesses all families can enjoy, such venues are friendly and accessible and friendly to all families, fantastic little local business – should be supporting them not closing them down, fine cafe with occasional local events, another bar is not required, community needs a cafe with some music; has been an incredible cafe and hub for the community; its owners are fantastic, it is a staple of the Water Gardens, food and drink has been wonderful, told events have been good, much loved community asset.
EXTERNAL IMPACTS – Bars encourage drink driving and anti-social behaviour, increased disturbance to neighbouring residential areas, loss of amenity.
The proposal will be heard on Wednesday October 7th, 2021 at 7.30pm in the Water Gardens.
Full details of application can be seen below.
https://moderngov.harlow.gov.uk/documents/s18796/HW-FUL-21-00384%20-%20Esquires%20v2.pdf