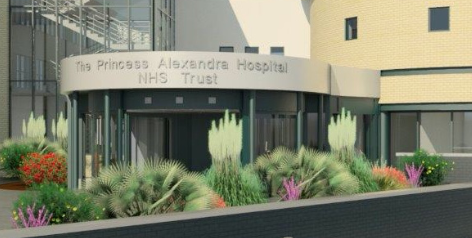 THE Care Quality Commission (CQC) has told The Princess Alexandra Hospital NHS Trust that the quality of its urgent and emergency, maternity and medical services need to improve.
CQC carried out an inspection in July, August and September at the trust's urgent and emergency, medical and maternity services to follow-up on concerns about the quality of care people were receiving. An inspection of the well-led domain of the trust overall was also carried out.
Whilst at the A and E Department, the inspectors found patients were being left in the hospital's corridor after being brought in by ambulances.
In one example, a patient who had been brought to hospital after being found collapsed and unresponsive, was not seen for two and a half hours, despite the CQC's inspectors alerting hospital staff. 
In another incident, a patient who was actively bleeding from the head was left in the corridor for 45 minutes with no assessment.
Following the inspection and due to the serious concerns found regarding the lack of monitoring of patients waiting to be seen in the emergency department – conditions were placed on the trust's registration.
The conditions require the trust to introduce a process for ensuring patients with the most urgent needs and at risk of their health deteriorating can be prioritised. The trust must also report staffing figures and weekly audits of risk assessments to CQC on a weekly basis.
As a result of the inspection, the overall rating of the trust remains as requires improvement. The rating for well-led has moved down from good to requires improvement. The trust remains good for being caring and requires improvement for being safe, effective and responsive.
The rating of maternity services overall remains as requires improvement, urgent and emergency services remain rated as inadequate and medical services remain as requires improvement.
Philippa Styles, CQC's head of hospital inspection, said:
"Our inspection of The Princess Alexandra Hospital NHS Trust found several areas where improvements were needed, particularly within the emergency department where inspectors found concerns around the monitoring of patients and the absence of a system to ensure priority could be given to those who needed urgent attention.
"We recognise the enormous pressure that NHS services are under and that usual expectations can't always be maintained but it is important that hospital trusts do all they can to mitigate risk within the resources available to them.
"It was very concerning that inspectors had to intervene to ensure two patients in the waiting area with deteriorating conditions and at risk of harm were given medical attention.
"Once admitted into hospital, timely observations weren't always carried out or recorded meaning patients could be placed at risk. This situation was worsened by the service not having enough nurses and healthcare assistants to provide safe care.
"We saw similar concerns in maternity services with understaffing that had led to bed shortages and delays in women receiving care.
"Staff told us they were exhausted, were not getting breaks, had been in tears while on duty and did not feel they were listened to by senior staff. Despite these challenges, staff should be commended for how kind and caring we saw they were with all their patients.
"The director of midwifery was new to the role of running the service and understood the priorities and issues the service faced, however, they were only at the early stages of making improvements.
"We will continue to monitor the trust to ensure they are keeping people safe during this time and will return to check whether sufficient improvements have been made and take further action if we don't see this."
Trust leaders needed to work on identifying and improving these areas as a priority. There had been several new appointments at board and director level and the leadership team now need to work together to make the necessary changes.
Senior leaders were proud of the resilience of their staff and saddened that morale was low. They acknowledged the effects the pandemic had had on staff well-being and encouraged an open culture for speaking up.
Following the inspection, CQC told the trust it must make several improvements, including:
In urgent and emergency services:
• There must be enough numbers of suitably qualified, skilled and experienced nursing staff to meet the needs of patients.
• The trust must complete a review of clinical risk assessments, care planning and physiological observations to ensure patients' needs are individualised, recorded and acted upon.
• Every patient must have an initial assessment of their condition to enable staff to identify the most clinically urgent patients and ensure they are triaged and assessed.
• Toilet facilities for adult patients presenting with mental ill health must be safe and free of potential risks.
• Patient observations must be completed within 15 minutes of arrival at the department.
In maternity services:
• The service must ensure all steps are taken to appropriately manage and maintain safe staffing in the maternity unit.
• There must be a robust maternity triage system in place, with appropriate guidance and training.
• Staff must complete mandatory training to comply with the trust's policy.
In medical services:
• Patients at risk of falls and pressure ulcers must be assessed and appropriate measures taken so they are not placed at harm.
• Patient records must be completed in a timely manner.
• There must be enough trained and skilled nursing and health care staff, including those requiring additional supervision.
• Staff must follow systems and processes to safely prescribe, administer, record and store medicines.
The PAH Trust has been approached for a comment