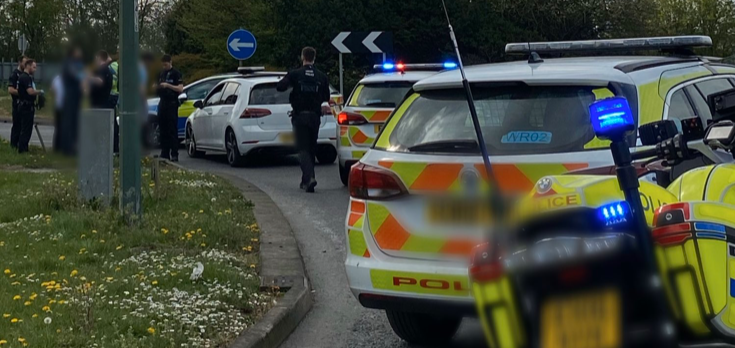 SO far this year, 42 people have sadly died in collisions on the road here in Essex.
Last year saw 46.In total, that's too many needless deaths on our roads.To combat that figure, in partnership with SERP, launched Vision Zero in September which is our commitment to achieving safer roads in Essex and lowering the number of road deaths each year.
By 2040 we want that figure to be zero. To help us, we are calling on all road users to share this vision and work with us to achieve it.Adam Pipe, Head of Roads Policing, said: "No fatal collision is acceptable."Our Roads Policing Team get called to far too many fatal or serious collisions where at least one of the Fatal Four contributary factors are present – inappropriate speed, not wearing a seatbelt, using a mobile phone while driving and drink or drug driving."I want the public to understand that poor or dangerous driving is not the standard of driving we want to see."
By educating the public on the Fatal Four, I hope that drivers will reflect on their own driving and see what areas they can improve to help keep themselves and other road users safe."
The Fatal Four are the four main causes of KSI (Killed or Seriously Injured) collisions on our roads. It only takes one to be present to contribute to a collision, but the more that are present raises the possibility that a fatal collision will occur.We would ask you to think about the Fatal Four and take steps to avoid a fatal collision.
1. Inappropriate speed – slow down, there's no rush. Speed limits are the maximum you can drive, but you should drive safely, and to the type of road and road conditions. If it is raining or snowing, it will take you longer to brake.
2. Not wearing a seat belt – this is the law, but people still take a risk and don't wear a seat belt. In a collision, it could stop you being thrown from the vehicle. It could save your life.
3. Using a mobile phone whilst driving – this is totally distracting and unnecessary. Use hands free or wait until it's safe to pull over. 
4. Drink or drug driving, which can lead to devastating consequences if you get behind the wheel too soon, including the next morning.

Mr Pipe added: "In the run up to Christmas, if you do just one thing, it could improve your driving. If you change your driving style and cut out the Fatal Four, it could save your life."

To report poor or dangerous driving offences that you have captured on dash cam, visit Extra Eyes at Safer Essex Roads
To find out more about Vision Zero and our work with Safer Essex Road Partnership visit Safer Essex Roads
Editors' notes:
Fatal collision figures
2020 = 46 deaths
2021 = 42 deaths (accurate to 17 November)

In 2020 the top ten speeding offences ranged from 138-147mph.

Surround a town is a partnership approach to education and enforcement targeting Fatal Four offences.
On 9 November, at Epping• 31 people were stopped for seatbelt offences• 23 speeding offences in a 30mph zone (top speed of 46mph on Upland Road)• 7 mobile phone offences• 6 careless driving or driving without due care offences