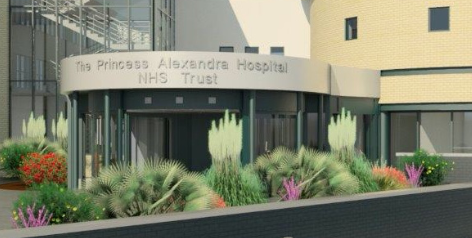 THE visiting guidance to the maternity department at The Princess Alexandra Hospital has been updated in response to the revised Government restrictions, referred to as Plan B, to limit the spread of the new COVID-19 variant, Omicron.
This is to ensure that teams can provide high quality care whilst keeping women, pregnant people, babies, their families and its people safe.
The main information is:
Only one nominated person can be with a woman/pregnant person during labour
Visiting on the wards will be permitted from 1pm-5pm each day
All antenatal appointments will be for the woman/pregnant person to attend only
Both a woman/pregnant person and partner can attend scans. All must carry out a quick COVID-19 test (lateral flow test) before the visit – more details are available here
Attendance at the Maternal and Fetal Assessment Unit (MFAU) will be for the woman/pregnant person only
Any partners who are COVID-19 positive are not able to attend the hospital and must follow Government guidance on isolation
Face masks must be worn for all appointments and within the hospital setting at all times, unless the person is exempt
No children are able to attend any appointments either within the hospital or community setting
Completing a lateral flow test before visiting the maternity department
A woman, pregnant person, their partner or chosen support person will be asked to take a COVID-19 test (lateral flow test) before coming to the maternity department – the test result must be negative before entering.
All birthing partners must provide evidence of a negative lateral flow test. Please note that unless this evidence is provided, admission to any of the wards cannot be permitted.
Take a look at the Government website to see where to locally access lateral flow testing kits. Once you have uploaded your lateral flow test result via the Government website, you will receive a text message with your test results. Please keep this message to show one of the team when you arrive at the department.
Please note that the lateral flow test is voluntary, however if you decline to have a test, your support partner will only be allowed into the Labour Ward and Birthing Unit during labour.
Visiting guidance to the maternity department
Please adhere to the following guidance whilst visiting the maternity department:
All visitors must wash or sanitise their hands before and after visiting relatives
Visitors must be over the over the age of 16 – children are not allowed
Please do not enter the hospital if you feel unwell
If you have a high temperature or new cough please return home and self-isolate
Wear a fluid resistant face mask at all times – you may be asked to wear additional protective equipment if required
There is no swapping of birthing partners/support people
Remain on the ward during the visiting period, unless you need to use the toilet facilities
Use toilets allocated for the public and visitors only – please keep your mask on during this time
Please do not sit on the patient's bed
Please do not visit any other patients that may be cared for at the hospital
Visitors must not bring in food parcels, flowers, helium balloons or similar items
Adhere to the allocated visiting time
Be respectful to our teams at all times

More information is available at www.pah.nhs.uk.