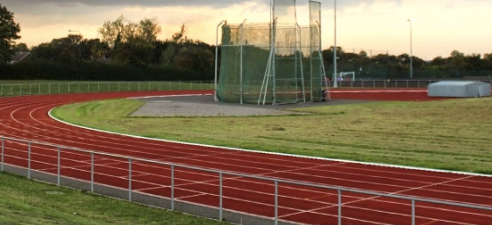 AT last, competitive club athletics made a return after two years of Covid restrictions last weekend. St Albans was the venue for the first match in a revamped format: Division 3 of the Southern Athletic League will be contested as eight mini leagues, with each league winner then competing in a play-off match to determine promotion to Division 2. Harlow will compete over the season with Barnet & District, Herts Phoenix, St Albans and Watford.
On this occasion, Harlow finished fifth, but only eight and a half points behind Watford. The team will be stronger at future meetings as injury and preparation for GCSEs and A levels reduced the squad to a bare minimum.
On the men's side of the meeting, Harlow relied on club stalwarts Glen and Carl Paxman, and Dave Bauer to bolster the field events. They were joined by another experienced hand on the track in Donald Campbell. There were also two debutants, Harrison Pickard, and Samson Brichieri-Colombi.
The women's team was even smaller and consisted only of Dawn Jones, Eilidh Malcolm and two newcomers, Jo Willard, and Rihanna Drew.
Pickard competed only at 800m and ran a new PB, 2.22.2mins to take a well-deserved fourth place. Brichieri-Colombi, fulfilling the rules of the competition, with no mark with this weight had to make his debut as a non-scorer. However, his first outing with the senior implement proved to be very successful. His throw of 35.69m would have been a winning mark. Next time, he will automatically become the club's 'A' scorer.
The Paxman twins covered every field event, and neither were lower than third. In so doing, they amassed an incredible 58.5 points, almost a half of the team total. Just as impressive was Bauer's contribution: he is recovering from a debilitating knee injury and yet still managed to perform well effectively from one leg and reduced power in the long throws. He picked up seventeen points on the day and won the discus.
With the team not in a position to challenge, Campbell had the luxury of choosing his events and opted for the 400m and 2k Steeplechase. He ran an impressive 55.1s and was second. He also clocked a PB in the steeplechase at 7.46.9 mins.
On the women's side of the competition, there were also two debutants in Jo Willard and Rihanna Drew. Willard is no newcomer to the sport but last competed as a junior twelve years ago. She ran the technically demanding 100m hurdles and was second. She then jumped 3.96m in the long jump to take third place and should be very pleased by her return to the sport.
Essex is blessed with quality long throwers and the County Championship was something of a baptism of fire for Drew last weekend. This weekend, she was very competitive at club level. Her best throw of 20.69m in the discus was a PB and good enough for second place.
Women's Captain, Eilidh Malcolm, alongside Dawn Jones ran the 200m and 400m. Malcolm was fourth in the A 200m and third in the A 400m. Jones picked up a third and second place respectively. Harlow are next in action at Watford on 12 June.
Match result:
St Albans 300.5
Herts Phoenix 213
Barnet & District 153
Watford 131
Harlow 122.5