CYCLING for a cause, three brave cyclists took on the epic 100 mile 'Ride London Essex 100' bike ride on Sunday 29th May. Riders Jon, Morgan and Craig collectively raised over £1200 to date for West Essex based Disability Charity Accuro (Care Services).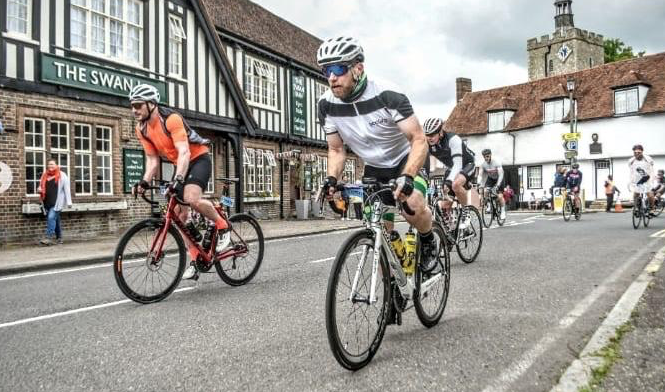 Rider Morgan Brewer is a member of Saffron Social Cyclists and works at Saffron Building Society, who kindly match funded part of his fundraising. On completing the ride, he said, "There is something about the 'first sportive' you complete that's always exciting and to be able to share that excitement with Accuro just topped it off.

From sitting on a bike in the Saffron Community Hub window to promote the Ride 100 and Accuro to seeing the guys cheer us all on in Dunmow at mile 46, the whole experience has been amazing.
Raising the funds for such a wonderful cause really did add the magic to Ride 100! I'll happily be looking forward to the next sportive and shall continue to raise awareness for Accuro."

The race took on a brand new route for 2022 and saw participants set off from Victoria Embankment in central London and into Essex via the historic Epping Forest. Once in Essex, participants rode through Ongar, Fyfield, the Rodings and Great Dunmow, before joining a section of the 2014 Stage Three Tour de France route.

That part of the course guided riders through Felsted and around Chelmsford before heading through Writtle, back towards Ongar and into central London, with the ride finishing at Tower Bridge.

Rider Craig Carter from Harlow said, "This event was my first charity ride. It was only the third time that I've ridden 100 miles or more in one ride. I had set my sights on a sub six hour ride and somehow managed a 'moving time' of five hours three minutes! I definitely want to complete this ride again. Thank you to Accuro for the kind words and support."

Accuro's Community Fundraising Officer Chloe Salisbury said, "Events like this are vitally important to charities and we were so grateful to have three brilliant, dedicated riders out on the route. Seeing Morgan, Jon and Craig fly past in their Accuro vests in Great Dunmow and Epping was a highlight for us. Accuro provide services in both of these areas, so to see such an iconic event take place on our 'patch' was very special."

Accuro is a small charity supporting local children, young people and adults with disabilities in West Essex by providing services that are fun, safe and inclusive. These services reduce social isolation and empower members by providing accessible social and leisure opportunities that allow members to develop life skills, gain confidence and self-esteem and make friends.

For more information about Accuro or this event, visit: www.accuro.org.uk