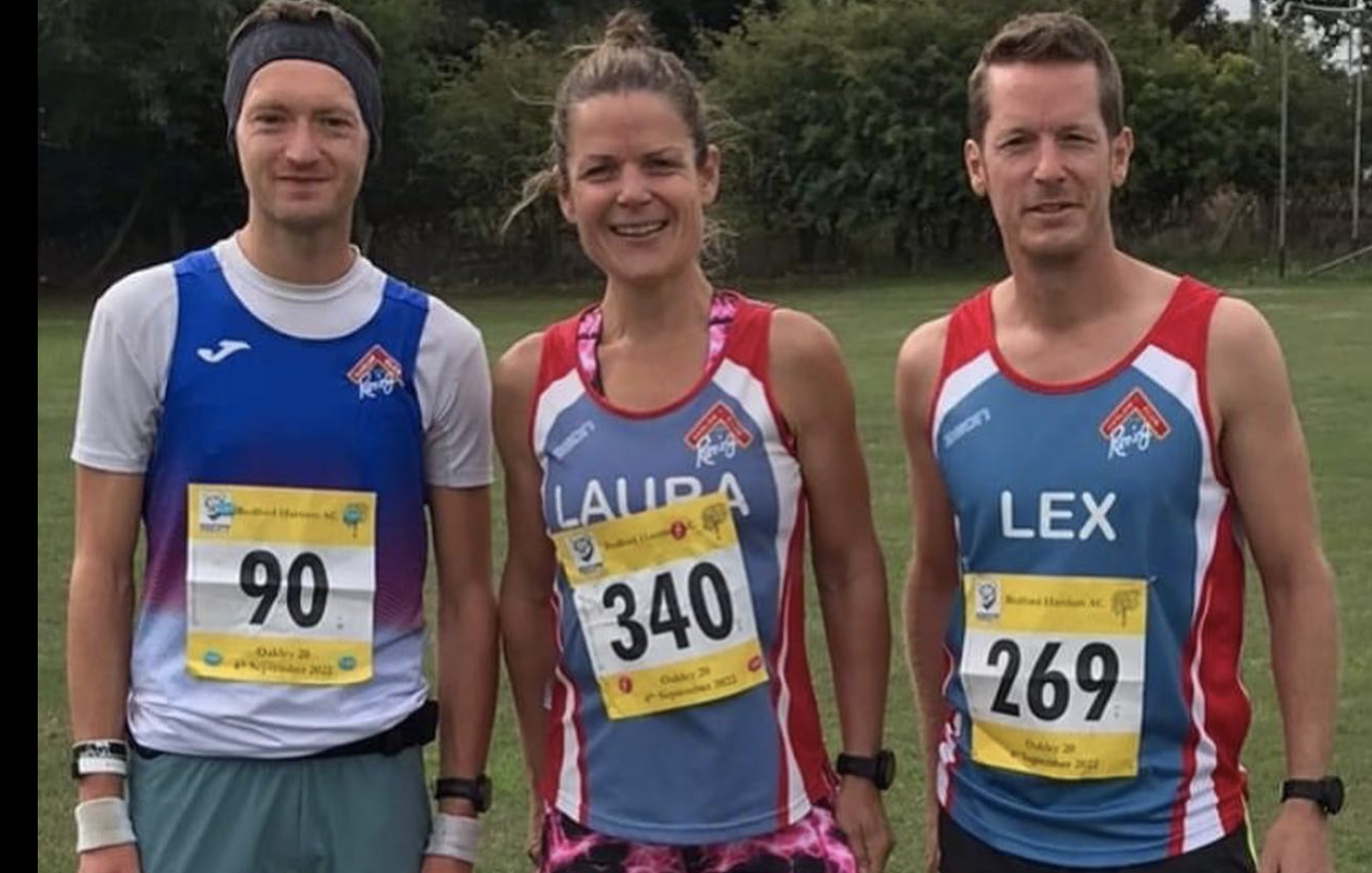 HARLOW Running and Tri Club were represented at London's The Big Half, a Half Marathon race starting at Tower Bridge and finishing at Cutty Sark in Greenwich, by nine runners. The flat course proved to be very fast, apart from two debutants, the remaining seven runners all achieved personal best times for the distance.
Kirk Crudgington led the way in 1074th place out of 12,394 finishers in an excellent PB time of 1hr 29min 34sec. He was followed by Jon Waight in 1612th place in 1.34.53(PB),   Matthew Spires 1964th in 1.37.36(PB), Jermaine Shand 2480th in 1.40.59(PB), Chris Mella 5652nd in 1.57.53(Debut), Michelle Sheridan 6146th in 2.00.19(Debut), Kelly Spires 7286th in 2.06.50(PB), Clare Carter 8616th in 2.14.55(PB) and Angela Cook 12,181st in 3.17.09(PB).    
Meanwhile, at the Oakley 20 Mile race Martyn Coulter finished in 30th place out of 345 finishers in 2.28.24, Lex Ellington was 94th in 2.52.09, in his debut at the distance, and Laura Prime 154th in 3.06.05.
At the Hillingdon 20 Mile race Kerry Mavris finished in 113th place out of 212 finishers in 3.00.03.
Robert Foxley had an exhausting weekend, competing in three races, at the Bedford Running Festival.
On Saturday he completed the 5k race in 12th place out of 328 finishers and 3rd Vet 40 in 20.34 and then he ran the 10k race finishing in 30th place out of 656 finishers in a PB time of 41.48.
Then on Sunday he completed the Half Marathon, finishing in 51st place out of 518 finishers in 1.41.36. Also running the Half were Lucy Barnes finishing in 12th place and 1st Female in a fantastic 1.27.09, Terri Wiley 70th in 1.46.12 and Paige Bircham 140th in 1.53.44.
At the Mapledurham Trail Half Marathon at Reading Sean Flynn finished in 76th place out of 125 finishers in 2.13.52.
Harlow triathletes were in action at three events over the weekend.
At the London Ultra Duathlon (20k run, 77k bike, 10k run) at Richmond Park Jon Steadman finished in 33rd place out of 55 finishers in 5.43.19.
At the Box End Middle Distance Duathlon (10k run, 63k bike, 10krun) at Bedford Rob Lowe finished in 14th place out of 51 finishers and 2nd Vet 50 in 3.24.48.
At the Box End Sprint Triathlon (Swim 750m, Bike 20km, Run 5km) Suzie Middleton finished in 330th place out of 451 finishers in 1.32.26 in her debut at the distance.
There were parkrun PBs at Harlow Harlow parkrun for Tim Wood finishing in 28th place out of 198 finishers in 24.17, Glen Wilson 44th in 25.21 and Donna Milton 85th in 28.49.