HARLOW Running and Tri Club member Laura Prime, in training for back to back marathons next month in the Sahara Desert, completed a slightly less arduous feat of a marathon on Saturday followed by a half marathon on Sunday.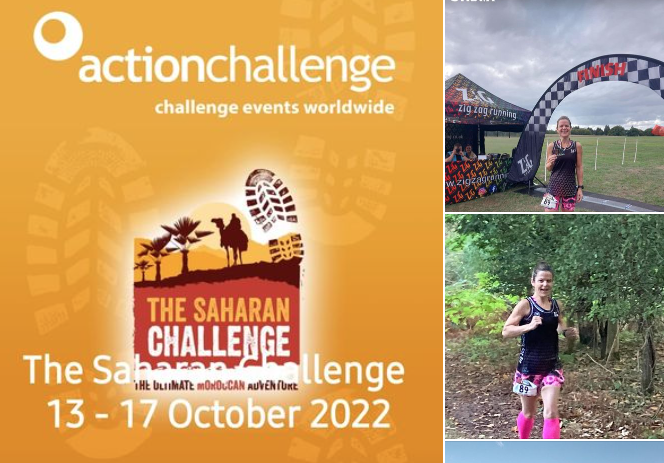 In the Zig Zag Running Lots of Laps Marathon at Haughley Park, Suffolk, Laura finished in 4th place out of 10 finishers and 1st Female in a course record of 4hrs 08min 03sec.

Then on Sunday Laura completed the Maldon Half Marathon, finishing in 131st place out of 218 finishers in 2.01.43. Also running was Tony Russell, in his debut at the distance, in 156th place in 2.08.49.
Meanwhile, at the Standalone 10K in Letchworth Garden City Sean Flynn finished in 246th place out of 820 finishers in 50.09 and Claire Carter was 463rd in a PB time of 56.37.
At the European Aquathlon Championships held in Bilbao, Spain, (1km swim, 5K run) Ryan Smith finished in 198th place out of 372 finishers in 37.42 and Gail Nicholls was 283rd in a PB time of 41.35.
At the same location in the European Aquabike Championships (2k swim, 82km bike) Louise Kedge finished in 38th place out of 112 finishers in 3.32.23.
At the Eaton Dorney Sprint Triathlon (750m swim, 20k bike, 5k run) Paige Bircham finished in 131st place out of 357 finishers in 1.25.26, Michelle Sheridan was 217th in 1.32.47, in her triathlon debut, and Donna Milton 241st in 1.35.59, also her debut.
There were parkrun PBs at Harlow parkrun for Chris Mella in 15th place out of 170 finishers in 22.04, Rob Peters 42nd in 25.48, Claire Clark 93rd in 31.10 and Alex Soady 96th in 31.37.

At Victoria Dock parkrun James Shand finished in 13th place out 127 finishers in a PB time of 19.45.
Last week at the midweek Hatfield 5k Series Race 3 of 3 John Tennant finished in 96th place out of 165 finishers, 1st Vet 70 and Series Vet 70 winner, in 23.11