HARLOW MP, Robert Halfon met with St John Ambulance volunteers to celebrate the charity's year of youth and learn how to Restart a Heart. 
Robert attended a first aid training session in Parliament on Tuesday (October 18) to learn lifesaving skills from St John Ambulance Cadets, NHS Cadets, and Community Champions.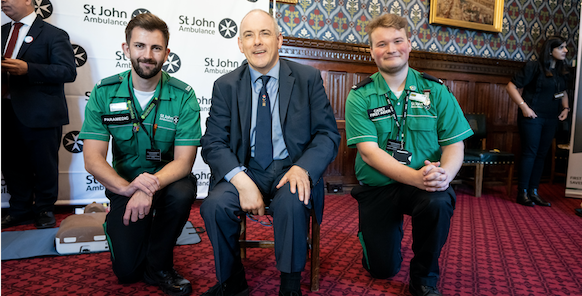 As one of the nation's largest youth volunteering movements, St John Ambulance programmes help young people from the ages of 5 to 25 to learn first aid, build confidence, and gain important life skills to support first aid resilience in their communities and help create a healthier and safer future.
The training was held to celebrate 100 years of the charity's support for young people through its Cadet programme and to raise awareness of the need to strengthen access to first aid training and lifesaving defibrillators.
In the weeks around Restart a Heart Day (October 16) St John Ambulance is raising awareness of cardiac arrests and training thousands of people across the country in lifesaving CPR skills. The charity is working in partnership with Resuscitation Council UK, England Ambulance Trusts, British Red Cross and the British Heart Foundation on the annual event.
Speaking after the event, Mr Halfon said, "Voluntary organisations add so much value to Harlow and the villages and St John Ambulance is no different.
"I was delighted to be able to join St John Ambulance in Parliament this week to celebrate with them and recognise the incredible work they do in Harlow. It was an honour to hear from volunteers and cadets in person, and to learn from them how to conduct CPR. St John is a vital part of our community and I was pleased to have played a small part in their celebration of 100 years of the charity's support for young people through its Cadet programme which not only provides a life saving service, but also enables young people to develop new skills which will stay with them for life."
Lynn Thomas, St John Ambulance Medical Director said, "We know that speed is everything when it comes to out-of-hospital cardiac arrests. As the nation's leading first aid and health response charity, our incredible young people play a vital role in expanding training in CPR and widening access to early defibrillation in communities across the country.
We were pleased to see Parliamentarians joining us this week to learn more about the work of St John and how the charity is working to develop the next generation of healthcare professionals, care workers and leaders we can all count on in an emergency".
For further details on St John Ambulance's youth programmes and how to get involved with Restart Heart Day activities please visit: www.sja.org.uk/