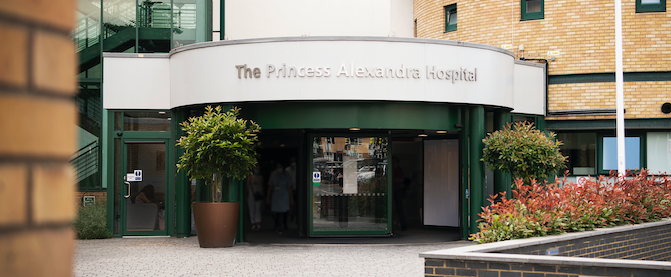 ONE OF the bosses at Princess Alexandra Hospital (PAH) has urged Harlow residents to support the emergency departments this Christmas.
From Chief Operating Officer, Stephanie Lawton
AS we approach the festive period, we are continuing to experience an extremely high demand for our services across the hospital.
We have high numbers of patients attending our paediatric and adult emergency departments (ED).
Paediatric ED
Following media coverage of recent cases of death and serious illness from invasive Group A strep in young children, our paediatric emergency department team has seen an increase in parents/carers who are concerned about their children.
Scarlet fever is usually a mild illness, but it is highly infectious. Symptoms in children include a sore throat, headache, and fever, along with a fine, pinkish or red body rash with a sandpapery feel. On darker skin, the rash can be more difficult to detect visually but will have a sandpapery feel.
Parents/carers should contact NHS 111 or their GP if they suspect their child has scarlet fever, because early treatment of scarlet fever with antibiotics is important to reduce the risk of complications such as pneumonia or a bloodstream infection. If a child has scarlet fever, they should be kept at home until at least 24 hours after the start of antibiotic treatment to avoid spreading the infection to others.
Scarlet fever is caused by bacteria called group A streptococci. These bacteria also cause other respiratory and skin infections such as strep throat and impetigo. In very rare occasions, the bacteria can get into the bloodstream and cause an illness called invasive Group A strep (iGAS).
Parents should contact NHS 111 or their GP if:
their child is getting worse
their child is feeding or eating much less than normal
their child has had a dry nappy for 12 hours or more or shows other signs of dehydration
their baby is under three months old and has a temperature of 38°C, or is older than three months and has a temperature of 39°C or higher
their baby feels hotter than usual when touching their back or chest, or feels sweaty
their child is very tired or irritable
They should call 999 or go to A&E if:
their child is having difficulty breathing – you may notice grunting noises or their tummy sucking under their ribs
there are pauses when their child breathes
their child's skin, tongue or lips are blue
their child is floppy and will not wake up or stay awake
Adult ED
We have seen a significant increase in attendances to our adult emergency department (ED), including as a result of an increase in COVID-19 cases in our community and winter illnesses. We are calling on our community to support us by ensuring that they only attend ED if their condition is serious or life-threatening.
Our ED team are committed to delivering high quality care for our patients, with the right care in the right place, at the right time. You can help to support your local hospital by ensuring that you access the appropriate service for your needs.
Please contact NHS111 for advice if you have an urgent medical problem and are unsure what to do.
NHS111 can give you guidance on the right service to treat your illness or injury. Most minor injuries and illnesses can be treated with the right self-care, contacting your GP, or visiting your pharmacy team.
You can also support the NHS this winter by receiving your COVID-19 and flu vaccinations, if you are eligible.
Please think why ED, or why not ED, before you come to our emergency department.
You can access more information about NHS 111, COVID and flu vaccinations at www.nhs.uk.
Best wishes
Stephanie Lawton
Chief operating officer