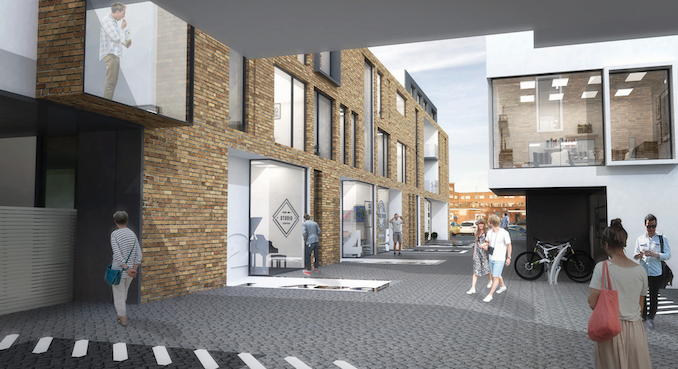 A PLANNING application for a re-development of former service industry bays into a mixed-use development comprising of 116 no. 1, 2 and 3 bedroom apartments is set to go before the Harlow Council planning committee.
The application site comprises the Service Industry Bays which is located within The Stow, CM20. The site is bounded by Howard Way to the west, The Stow to the east, Aldi supermarket to the north and St Andrews Methodist Church to the south. The main vehicular accesses to the area are from Howard Way and First Avenue/Mandela Avenue.
The planning permission was granted with a reduced timescale of 18 months in which for the planning permission to be implemented, with a section 106 legal agreement attached to the grant of consent that required a contribution of £50,000 to be paid before the occupation of the residential units towards healthcare and education improvements within Harlow.
Following on from this, application HW/REMVAR/20/00607 was submitted to vary this planning permission, which sought to separate the previously approved 10 no. live/work units into separate office/commercial use on the ground floor, and 10 residential duplex units (first/second floors). This would have resulted in the loss of the live/work units, with the number of solely residential units increased from 88 to 98. The application was approved in April 2021 subject to a Section 106 agreement.
It is understood that financial circumstances during the pandemic meant that it was not possible for the applicant to implement the planning consent. As revised, the current proposal seeks to increase the scale of the development by adding an additional 18 residential units to the scheme to total 116.
The additional units are proposed to be added primarily at fourth floor level and a new fifth floor, with the additional massing added in the northern section of the development. Some additional mass would also be added at third floor on the eastern section, where there was previously a recessed third floor from the eastern elevation. Additional mass would also be added at fourth floor level in the middle section of the western and eastern elevations, with the additional mass added onto the northern elevation at fifth floor.
The application may be heard on Wednesday at the Harlow Council planning committee. Meeting starts at 7.30pm.