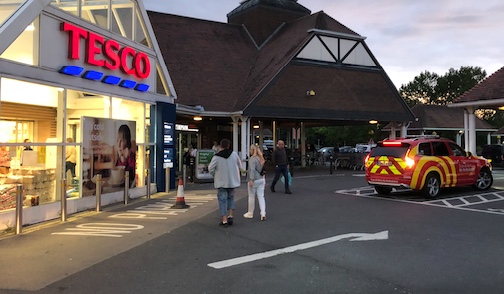 CRIMINAL behaviour orders help to divert shoplifters from offending and keep retail staff and customers safe claim Essex Police.
Officers work to attempt to divert shoplifters from their offending behaviour and one way they do this is through the use of criminal behaviour orders.
Criminal behaviour orders are designed to tackle the most serious and persistent anti-social individuals where their behaviour has brought them before a criminal court.
The aim is to protect victims of crime from repeat offenders as the conditions can be tailored by the courts to an individual's particular circumstances.
CBOs are a crucial tool for officers in our community policing and town centre teams who are those most likely to arrest shoplifters.
Shops and businesses themselves can get specialist help and support from their Business Crime Team, whose specialist officers help them to identify risks and provide crime prevention, fraud and cyber-crime advice to deter and prevent persistent offending, such as shoplifting.
In the 12 months to 31 March 2023, courts imposed criminal behaviour orders on 21 prolific shoplifters across Essex thanks to this partnership working.
More were obtained by community policing and town centre officers.
And more applications are in the pipeline.
Just last week, officers from Chelmsford Town Centre Team obtained a three-year CBO against a 23-year-old Maldon man, forbidding him not only from entering any Co-op store in Chelmsford during that time but also from entering the city's High Chelmer Shopping Centre.
And he is prohibited from remaining in any shop or commercial premises, if staff ask him to leave.
A prolific shoplifter was jailed for 24 weeks and given a five-year CBO earlier this month after being sentenced for five counts of theft from shops.
The 48-year-old woman was banned from stores in Southend, Westcliff-on-Sea and Rayleigh until August 2028.
Last month, a Canvey woman was jailed for breaching her CBO in Pitsea and attempting to steal from a shop, just two days after being released from jail for similar offences.
She was arrested by one of our Business Crime Team Officers minutes after entering two of the stores she was banned from.
Magistrates jailed her for another eight weeks. Her CBO will continue to run until April 2026.
Inspector Christian Denning, of our Business Crime Team, says:
"Criminal behaviour orders are a very important tool in preventing not only thefts but also violence, anti-social behaviour and harassment across the retail sector.

"If the subject of a CBO ignores its terms, they can be arrested and put back before the courts where they will face a jail sentence of up to five years, a fine or both.

"CBOs place prohibitions on persistent offenders to restrict them from entering shops where they cause the most harm but they can also place requirements on offenders to attend drugs and alcohol treatment programmes.

"Rehabilitation helps to reduce the need for offenders to steal and excluding them from stores reduces the opportunities for them to steal.

"This combination helps to reduce the effect on the stores they target because shoplifting is not a victimless crime.

"Some offenders can be violent and cause injury and distress to retail workers and customers and this behaviour is completely unacceptable.

"We recognise that incidents of violence towards public facing staff sometimes go unreported.

"So, through our Open for business, closed for crime campaign we are encouraging retail staff who are victims of violence and abuse to report it to us.

"Staff should feel safe when they are at work and customers should feel safe when they are shopping.
"Violence and abuse should not be tolerated."
It is an offence to breach the terms of a CBO and courts can impose a maximum sentence of up to five years' imprisonment or a fine, or both, for an adult convicted of breaching them.
Our Business Crime Team specialises in supporting businesses, working to build relationships with independent shops and retail chains, explaining how they can report crime to us and, just as importantly, what will happen when they do.
They help to identify risks in the workplace, providing crime prevention, fraud and cyber-crime advice and strengthening links with businesses and partners, including local community safety partnerships, Essex Chambers of Commerce and the Essex Federation of Small Businesses.
Working with the National Business Crime Centre, the team share nationally-identified crime trends and best practice with our business community.
And they have also developed a comprehensive guide to business crime prevention which identifies steps business-owners can take to protect themselves and their properties.
For more information, visit our Business Crime Team pages.