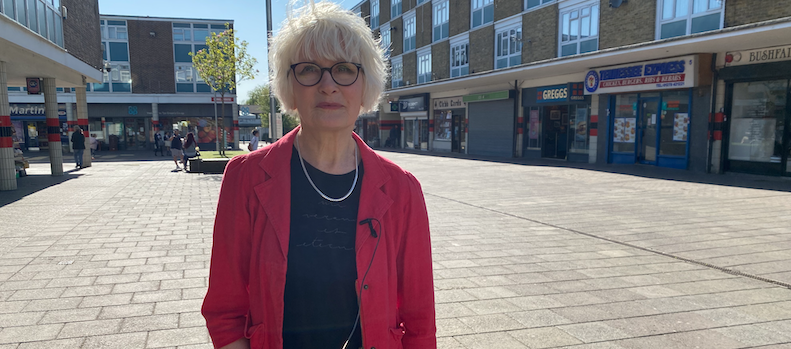 October Blog by councillor Kay Morrison
CONFERENCE was very well attended this year, very busy  but I made a point of visiting as many of the stands as I could. Amongst them was Alzheimer's Society in which I have a particular interest.
Before arriving in Essex, I was involved in helping to design residential care buildings. That project allowed me to view examples of good and bad practice in different parts of the UK and to learn about tweaks in domestic layout which make life a bit easier for those with dementia.
I now volunteer with Alzheimer's Society and Action for Family Carers, supporting carers and people with dementia. (Alzheimer's Society is the only dementia charity which offers dedicated support to those who need it, campaigns for change and funds groundbreaking research.)
My visit to the Alzheimers stall reminded me of how much we have to do and of the size of that challenge. Dementia is our biggest killer. It has been the leading cause of death for the last ten years. In the UK, around a million people have the disease; millions more are carers. The scale makes it one of the most urgent issues affecting health and social care.
It's not inevitable and it's not simply a natural part of ageing. Greater awareness of its effects and its prevalence should help make a greater priority. What is it, though? I'm no expert but I know research continues into genetics, lifestyle and environmental factors. The role of plaques and tangles in impeding neural connections seems better understood. Good nutrition and exercise can, it appears, help to reduce cognitive decline. To complicate matters, dementia doesn't affect everyone identically but can manifest itself in memory problems and communication difficulties, effects intensifying as the disease progresses.
Dementia is not an inevitable part of growing older. Yes, I know I've said that before! Early diagnosis is essential in helping people to come to terms with the disease and to access support. Activity groups such as Singing for the Brain, Action for Family Carers, reminiscence work, North Weald's Dementia-Friendly Bowls all help to stimulate brain activity; they all help Harlow residents. They also facilitate interaction with others and encourage a bit of fun.
Most of us know somebody who has dementia. I know quite a lot of such people. We can make a difference to their quality of life and their carers', in quite simple ways. As a country, we need to prioritise the disease in all its forms. We have to take it much more seriously. Dementia is with us for the long term.