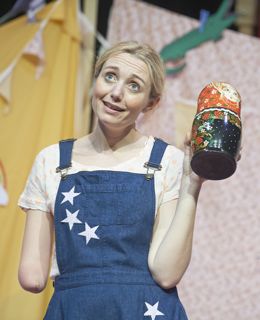 by Jo O'Reilly
FOLLOWING a sell-out Edinburgh Festival Fringe premiere, Cerrie Burnell (as seen on CBeebies) brings The Magical Playground to Harlow this Saturday
This delightful new show features a new story inspired by Cerrie's own childhood. Cerrie plays Liberty Rose. Libby dreams of becoming a ballerina like her mother before her. But when she's told to wear a false arm for dancing lessons, Libby rebels, seeking escape in her favourite playroom. Suddenly, the toys magically come to life around her. Will Libby's new friends be able to help her to become a famous ballerina?
Your Harlow spoke to Cerrie about the performance, which she hopes will appeal to all children as well as those with disabilities like Libby's,
"I hope it's something that all children will relate to, although the start of the story is about Libby and her very specific circumstances, by the end it's more about a little girl trying to make the right choice for her and stand up to parental authority, something that I am sure all children, and parents can relate to."
Burnell was named in The Observer's list of Top 10 Children's Presenters, earning a favourable comparison with veteran television and radio presenter Valerie Singleton. She also featured in The Guardian's list of the 100 most inspirational women where she received praise for tackling disability head on. Alongside her work for CBeebies, Cerrie continues to make frequent television appearances on shows including The One Show, Celebrity Mastermind, Beauty and the Beast, The Wright Stuff, The Hour and Celebrity Eggheads.
Your Harlow asked Cerrie how her success as a children's presenter is helping her to play the role of Libby, "I've got a five year old daughter so I am just playing her, so it's a bit of a cheat actually. It's a one woman show so I am also playing other characters in the show who are adults, but it is Libby's story and she is the story teller."
The Magical Playroom opens this Saturday 23rd November at The Playhouse Harlow with a first showing at 11:30 AM and an afternoon show at 14:30 PM. To book tickets contact The Playhouse box office on: 01279 431945