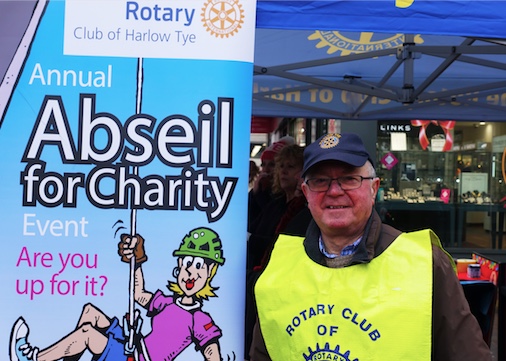 THE Harvey Centre in Harlow will be sponsoring the Harlow Tye Rotary Club's annual Charity Abseil again this year. The Abseil is giving local people the opportunity to raise money for the charities and organisations that they care about. It could be a local, national or international charity, or even a school, club or care centre.
To date, the annual abseil has raised an extraordinary £910,000 for hundreds of worthy causes – an incredible achievement so far. This year's event will take place on Saturday 5th May and Sunday 6th May 2018 (the May bank holiday weekend) at the Church Langley Water Tower in Harlow.
The Harlow Tye Rotary Club employs fully qualified experts to train and supervise everyone involved. Participants have to pay an entry fee of £35 to take part but 100% of the sponsorship that is raised from family, friends and colleagues goes to the beneficiary of your choice. You must be 16 or older to enter, but there is no maximum age limit – all adults are welcome.
To get involved, participants need to visit the Harlow Tye Rotary Club website (www.harlowtyerotary.org.uk) and follow the instructions to register. Alternatively they can contact [email protected] or call/text Bill Colton on 07711982671. Teams are also entitled to enter.
Bryan Young, Centre Manager at The Harvey Centre says, "We're thrilled to be supporting Harlow Tye Rotary Club in their Charity Abseil once again. It's a must-see event in Harlow and a really innovative way for local people to raise money for their favourite charities. We hope to see you there!"