EVERY year, in September, The Gallery at Parndon Mill presents an exhibition of works of art in glass by distinguished artists and newcomers. Following the success of last year's themed show linking glass and science, this year's exhibition will focus on glass and history. This will include contemporary pieces which use historical references as an inspirational source and also work that deals with the history of making glass. Many glass artists have helped to develop modern techniques but it is very interesting that others have turned to methods used in the distant and sometimes more recent past to achieve exactly what they need to create their works of art.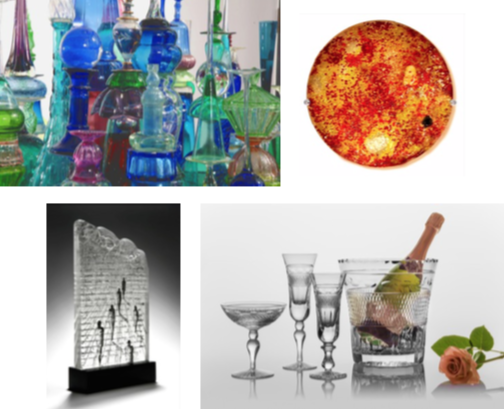 The history of glass making is long and fascinating, beginning at least 3,000 years ago. Before the advent of blowing in the 1st Century BC techniques for making vessels included winding trails of glass around a core made from a mixture of sand and clay or animal dung, mixed with straw to add strength. The series of Decanter sculptures presented in Glasshouse XIV by Max Jacquard has been inspired by this technology and by the fact that later on in history glass making was overtaken by industry and its value subsequently diminished. He makes a playful comment on the possibility that the packaging materials might hold more value than the fragile glass objects they protect.
Lead glass crystal was an exception to the decline in value of factory produced glass. Towards the end of the 17th Century a flourishing centre for glass crystal was established in Stourbridge which today boasts a thriving community of craftspeople in both traditional and contemporary glassmaking. One of our exhibitors, Catherine Hough, was studying glass making there, and as studio glass was still very new at the time and making facilities were still quite primitive, she went to Royal Brierley Crystal to blow her glass. The contemporary piece she exhibits was made using techniques she practised there.
In the 20th Century the Stourbridge factories declined but in 1976 Cumbria Crystal was founded by the Cavendish family. It flourishes today supplying superb quality lead crystal glassware to many royal families, prestigious companies and television productions. It has recently given students at the Royal College of Art the opportunity to work there, learn about the processes and further their careers. Examples of their work are included in the exhibition.
Some of the exhibiting artists have simply been inspired by the shapes and decoration of glass made many years ago – Egyptian glass, Roman striped mosaic glass and Victorian cameo glass for instance.
Others have been inspired by incidents in the recent and more distant past including archaeological sites, historical discoveries using glass as a preservative, NASA's discoveries among the planets, Chinese tradition, diaries from World Wars I and II, history in nature including rings in the wood of a tree – or just memories.
There is a lot to see in this exhibition. Like history, some pieces are sad and some are amusing. There is a lot to learn as well, but you don't have to read all the words. Glass is a beautiful medium, just come and look and enjoy!
19th September – 3rd November
Tuesday – Friday 10 – 5
Sunday and Bank Holiday 2 – 4

Popularity: 1% [?]