Council matters blog – the month of September by Councillor Mark Ingall, Leader of Harlow Council – Part One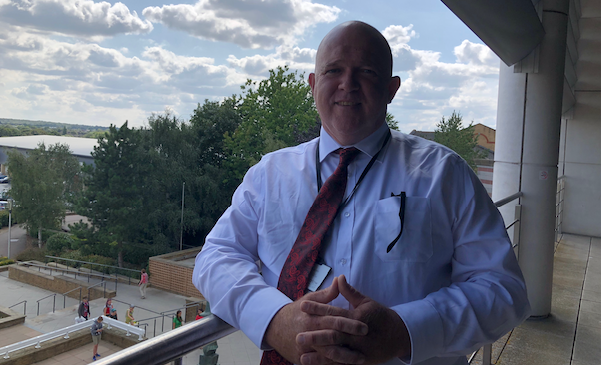 WELCOME to my new monthly blog written exclusively for Your Harlow. I hope it gives you some insight into my role as Leader of Harlow Council and what has been happening within the council. I can be contacted about any of the issues below by email at mark.ingall@harlow.gov.uk
I am starting my first blog looking back at the month of September. This is always a busy month for the council following the summer break and a lot happened last month so this blog will be in two parts!
Permitted Developments (conversion of office blocks) – will others follow Enfield's lead?
In the early part of September I met with Caridon Property who own two permitted developments in the town. This includes Terminus House which continues to shine a negative light over our town centre. I have made my concerns widely known in the media about Terminus House, and the impact it is having on both the town and on people placed there by other councils. This was a meeting I requested and it was my opportunity to talk directly with the owners about the concerns we have. Will anything change? We will have to see. But as the community leader, we need to have ongoing conversations with all building owners in the town centre, including those who own permitted developments whether we agree with these developments or not. We need a shared vision for improving the town centre. I think there is a better use for these buildings, and that is their intended original use as office space.
It was a week after this meeting that Enfield Council announced it would no longer be placing families in Redstone House. This is another privately owned former office block in the town centre, converted into residential use under government permitted development rights. Enfield's rethink followed a meeting I had with their leader over the summer. Enfield's move is an important one and I now have a number of meetings with other council leaders organised to talk about their use of permitted developments in our town. I will be using Enfield's decision as an example of what other councils should do. I hope to update readers on this in next month's column.
I hate the fact that people are living in these converted buildings and that, because of permitted development rights, they have been allowed to be converted with no planning or regard for the people that are moved miles away from their home towns to live in them. The councils using them are part of the problem, but they can take a stance and start placing people again in the area that they live in.
Cabinet – looking at how we are doing
The first meeting of Cabinet since before the summer was held on 12 September. Every three months, Cabinet reviews the council's financial and operational performance and this is scrutinised by both sides of the chamber. There are some 49 different performance measures monitored and our latest report told us that we performed above or on target for 96 percent of these (47 out of 49). Where performance has fallen down there are improvement action plans in place. Our financial performance continues to hold up well; we are not having to make cuts to services or make redundancies. However, our future financial position remains uncertain – which is the same for all councils – as we don't know yet what the Government is planning to do with council funding beyond the years 2020 and 2021.
At Cabinet we also made a decision with Harlow's future in mind; we agreed to dispose of land adjacent to the Old Harlow Medical Centre (Jenner House). The land is owned by us and its disposal will enable the extension of the existing medical centre to meet local healthcare needs.
Council meeting – public questions and two motions
A week after Cabinet was the Full Council meeting on 19 September. These meetings are chaired by the Chair of Harlow Council, Councillor Clive Souter, who updated us on the functions and events he has attended since the last meeting. Councillor Souter informed councillors that he raised over £1,300 for his chosen charities from his charity golf day held on 6 September.
At this meeting two questions were put to me as Leader of the Council by a member of the public. The first question asked me why the council and police are not enforcing the town centre public space protection order. The other question asked whether we are seeking more funding for places like Bromley Cottages which are supporting rough sleepers. In answer to the first question I responded that the police and council are enforcing the order. A large amount of alcohol has been confiscated and cyclists have been asked to dismount from bikes. Eight Community Protection Notices and two fixed penalty notices have been issued so far. In terms of accommodation like Bromley Cottages, I said that we continue to look for additional funding for existing projects and new building and renovation projects to support and prevent people from sleeping on the streets.
Any member of the public can ask a question in person at a council meeting. For each question submitted the resident can ask one supplementary question related to the same subject. You can find out how to ask a question here: questions at council meetings
The main part of the meeting was the debate by councillors on two motions which received cross-party agreement. The first motion agreed is important in terms of supporting those who fall into debt because they can't pay bills. The council has committed to the six steps set out in the Money Advice Trust's 'Stop the Knock' campaign. We will review our debt collection procedures against this guidance and make amendments where necessary so we meet the six steps.
The second motion agreed by councillors recognised the vital role of many local volunteers who help maintain the town and run services. It is not always the case that councillors from both sides of the chamber debate pressing issues affecting the town, but we always have a role in making sure those who work hard for others in our town are celebrated and acknowledged.
Harlow Town Centre Awards – celebrating what makes our town centre
I was delighted once again to co-host the Harlow Town Centre Awards on 24 September 2019 with Andrew Richardson from Phoenix Resource Centre. These awards have now become established and recognise the people that work and provide a diverse range of services in our town centre. There are some great people and services who work within the town centre that have been part of the place for many years and will continue to be.

Popularity: 1% [?]