Review: Jack and The Beanstalk at the Harlow Playhouse
November 29th, 2019.
WHEN you go to the Harlow Playhouse pantomime, there is every chance that you will be entertained as this production of Jack and the Beanstalk is like Santa's sleigh, packed full of presents and surprises.
And like Santa's sleigh, this pantomime ripped along at breakneck speed, ensuring you didn't stop for breath after laughing or just being amazed at the visuals, sets and scenes.
Photos courtesy of John Brough at APHeadshot Photography
The best gauge of whether people are enjoying a pantomime or not is, of course, the audience. It was clear that many enjoyed it for different reasons and that is why it is always best to review at the heart of the audience. Very young children enjoyed the visuals as this was a feast of colour and pzzazz and there were others who above all else were impressed by the quality of the singing and first class entertainment.
At the heart is the comedy partnership between Silly Billy Trott played by a wonderful Ben Parsley and Dame Delilah Trott played by the magnificent Jimmy Burton Iles. Whether it is the Star Wars outfit or the flying guitarist, these two have real spark as comedy foils. They just get the balance right. The 12 items scene is a real showstopper.
And balance/variety is the spice of this pantomime. After one comedy knockabout scene, there followed a great musical number. After that we get on with the plot. It rolls along wonderfully.
Sometimes, in panto, the professional dancers get a little bit taken for granted but the six dancers in this panto were on stage a lot and were outstanding.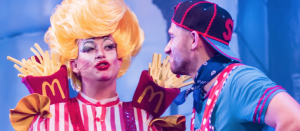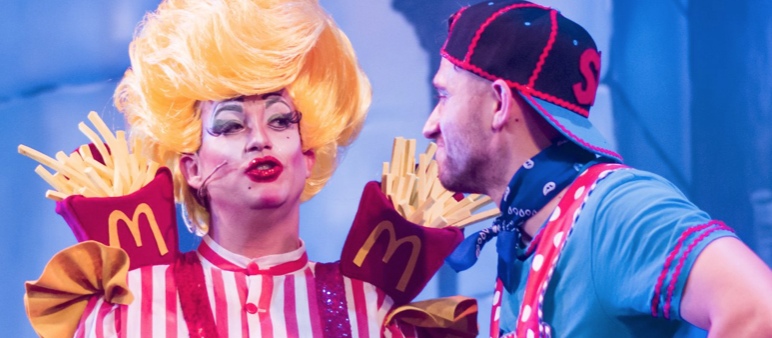 Speaking of stage, this was also a panto that used the whole auditorium wisely. That's not just the main stage but the aisles, the side passages as well, to give a real feel of a big production.
There is also a lot that we don't want to give away in the review but there is a Trott Airways scene that really hits the heights. There are also, believe it or not really giant Giants and very large beanstalks that have to be seen to be believed.
This would be a good moment to praise every single person involved in costume and design. Whether it is McDonald's outfits, milk bottle shelves or the wonderful sets at the finale, they are absolutely stunning.
Let us go back to the main cast, who are the beating heart of this panto. Jack is played by Jake Small and Jill by Amy Goodwin. You always feel a little bit as their roles are so straight but they sing beautifully, act wonderfully and strike the right balance as the panto moves along. The same can be said for Lizzie Ottley who plays Sprite and the little ones really loved her character, which re-inforces the praise that the show has something for everyone.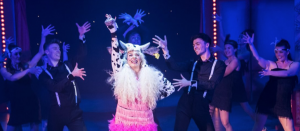 Who knew a cow could sing? Daisy the Cow played by Rachel Rawlinson really can and it was great that the panto gives her a showcase for her talents.
Finally, Laura Darton is wonderfully wicked as Baroness Blunderbore but more than that Laura, as well is a truly outstanding singer.
A cracking script by Daniel Bell and Ben Parsley and superbly directed by Daniel as well. One of the unsung heroes will also be the choreographer, Clare Cassidy. It is a massive responsibility from the professionals to the little ones.
This pantomime doesn't waste a milli-second. No filler, no fat. It is over two hours of total joy and entertainment. Outstanding comedy, music. dance, sets and entertainment. A visual treat and a value for money. It embodies everything that the Harlow Playhouse is about.
For more details, go to
https://playhouseharlow.ticketsolve.com/shows/873598434/events/128186381

Popularity: 2% [?]