"You miss your school and we miss you too!"
THE opening words to a poem written by staff at Little Parndon Primary Academy, in Harlow, to show pupils they care.
The message features in a series of photographs of members of the team holding up individual words to spell out the poem.
The idea came from Year 3 teacher Nicole Munns who felt the school community needed cheering up during lockdown.
She said: "I noticed a lot of the children and families were feeling a little down. I had received so many messages from parents saying how much the children were struggling without seeing their teachers. When I spoke to my colleagues, they all said the same thing, which sparked the idea in my mind.
"I wanted to get as many people involved as possible, so the children got to see all of their favourite faces. I allocated each teacher with a word and it kind of took a life of its own after that.
"We all worked together to make this beautiful project. I'm so proud of all of us. In times like these, you really need to pull together as a community.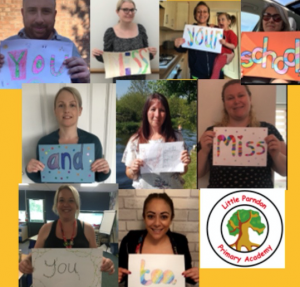 "We wanted to send out a message to all the children and parents to 'keep going, don't put too much pressure on yourselves, be kind, be safe'. We wanted to remind them that we are a family at Little Parndon and we will be here ready to support them whenever necessary.
"The children really have loved seeing all their favourite faces."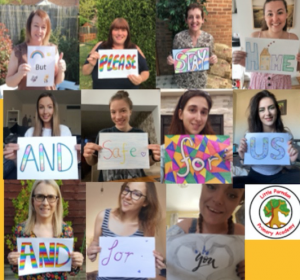 The words joined together spell out –
You miss your school
And we miss you too
But please stay home and safe
For us and for you
Make memories, build dens, have fun
Stay active, help out, play in the sun
We can't wait to see you again
When this scary time finally ends
But until then, just know
That we'll always be here to help you grow.

Popularity: 2% [?]