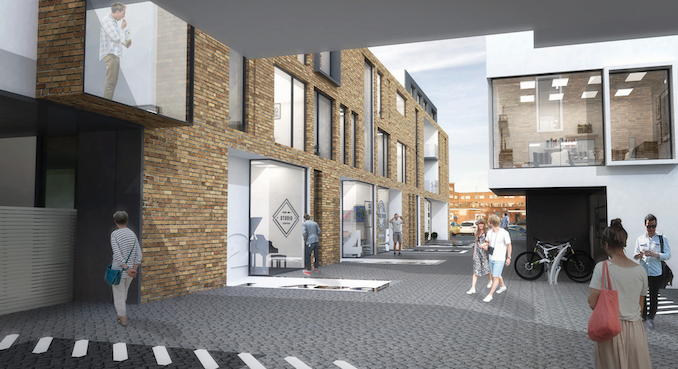 PLANNING permission has been granted for 88 homes in the service bay area of The Stow.
The decision was made in an on-line meeting of the Harlow Council Planning Committee meeting on Wednesday.
The plans for 87 homes were thrown out in 2019. In short, the homes were too close to St Andrews Methodist Church.
The committee heard that this had been changed with the development now some ten feet away from the church.
The committee were still unhappy that only 30% of the homes would be designated as "affordable housing".
The government definition of affordable housing states it must be provided at a level at which the mortgage payments on the property should be more than would be paid in rent on council housing, but below market levels.
There was also concerns regarding parking spaces.
Cllr Mike Danvers said: "The Stow needs modernisation and this will look a darn site better than what we have at the moment."
The committee agreed by a majority of 7-3.
Details of the Proposal
 88 residential units (1 and 2 beds).
 10 live/work units.
 545 sqm B1 unit.
 Undercroft car parking
 Mews courtyard
 Private/communal outdoor space.
 74 residential car parking spaces.
 5 residential disabled car parking spaces.
 6 B1 car parking spaces.
 2 disabled B1 car parking spaces.
 116 cycle spaces.
The proposal will take the form of a rectangular block ranging from 3 to 5 storeys. The live/work units and the B1 unit would be positioned within the eastern part of the site. There would be an undercroft car park at ground floor and communal garden space at first floor.
=============
There were a number of objections
Summary of Representations Received
The proposal has not been significantly altered since the previously refused scheme.
The proposal constitutes over-development and would not be in keeping with the
character and appearance of the area.
The proposal would result in a detrimental impact to the Church including Church
activities, maintenance, the fire escape and parking.
The proposal would incorporate the grassed area adjacent to the Church.
The proposal would increase pressure on Nuffield House Doctors Surgery.
There would be less parking available which would impact local business.
The proposal would increase noise and air pollution.
The proposal would result in the loss of trees.