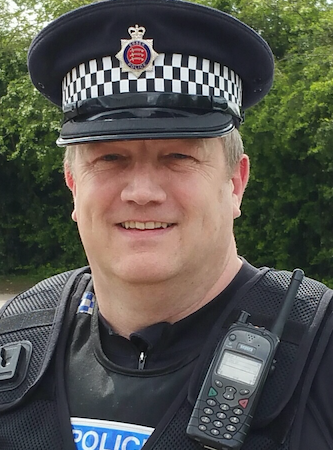 Harlow Community Policing Team
June Report
Inspector Tony Walker
A MURDER investigation is under way after a man died following a shooting in Roydon on Saturday 13th June, although this area falls under the Epping Forest Policing district it is very close to Harlow and has shocked the local community. A man in his fifties was shot outside the address by a group of people in a car he was taken to hospital but sadly lost his life the following day. Colleagues from our Major Crime Team are investigating and anyone with information should contact them by emailing scd.appeals.essex.pnn.police.uk quoting incident number 169 13.06.20, alternatively you can call Essex Police on 101 or contact Crime Stoppers anonymously.
As I write shops are re-opening in the Town Centre and on retail parks throughout the Harlow, all will have new procedures in place and things will be very different from what we are all used to, it may take extra time to go about your normal business. There will be clear signage with store staff and security around to assist, The Town Centre Policing team will also be on duty providing a visible presence to support the local community and businesses.
The Community Policing Team have been focusing on reducing anti-social behaviour in several areas and will continue to do so taking appropriate action against those who behave inappropriately. Prentice Place is one of these locations where youths have been climbing on roof tops and abusing local shoppers and security, increased patrols have resulted in two arrests one for a public order offence and one for breaching a Community Protection Notice, a number of other children have received visits from our Child and Young Person's officers with other forms of action being taken, we have also liaised with partners to increase the security of buildings at the location. Bowhill Way is another location that continues to receive our attention with increased patrols, again further arrests have been made here for drugs possession and breach of an injunction. There have also been increased patrols around our local schools which have not been in use.
Over the past month we have continued tackle crime in the Town Centre, a 20 years old male was arrested after making racial comments to a young female, hard work by the team identified that this male was responsible for a number of other offences, he was charged with a total of 17 offences and place before the court the day after his arrest, he admitted his involvement and was remanded in custody pending sentencing, another man was arrested for being drunk and disoprderly in Market Square. Harlow had their own Black lives matter protest in Harlow on the 3rd of this month, which was well attended by the local community, initially gathering in the Town Park a group then went on to walk through the Town Centre passing the Police Station before returning to the park. The protest was good natured and the march through the town was facilitated by the Community Policing Team.
As the weather improves its appropriate to give a timely reminder around home security to prevent you becoming a victim of burglary, open windows are an easy access point for burglars so make sure you lock your windows when leaving your home even if it's for just a short period of time, consider light timer switches for the evenings and always double lock doors especially overnight, UPVC doors can be particularly easy to force open when they are not locked correctly. Further crime prevention advice can be found on the Essex police website. Essex.police.uk together with information regarding Neighbourhood Watch.
You can keep up to date with local police activity via Facebook and Twitter – search Harlow Police