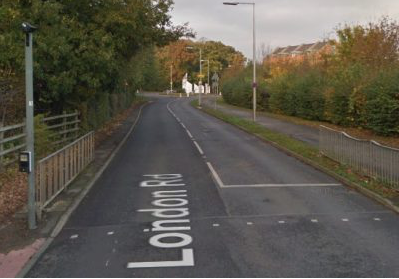 #DontCloseOLR campaign seeks clarity over bus gate proposal
ROBERT Halfon MP and senior members of Harlow Conservatives have written a joint letter to Essex County Council to call for a proposed bus gate on London Road to be abandoned. The #DontCloseOLR resident-led campaign group approached Harlow Conservatives to ask for more information about plans for future roadworks on London Road.
In 2017, the #DontCloseOLR campaign, joined by over 1,700 residents, managed to persuade Essex County Council to defer the final decision on the bus gate. The resident-led campaign welcomed the deferral at the time.
Over the last few days, several residents contacted their ward councillors to raise concerns about a planning notification they received from Harlow Council. It appears to include plans to review the bus gate again in spring 2021. The planning document states that a further traffic assessment will be conducted in line with the extra development of Newhall Phase II. Essex County Council is the highways authority which will make the final decision.
The vast majority of residents still oppose the bus gate proposal. In the joint letter to Essex County Council, signed by the MP and councillors for Old Harlow and Church Langley wards, they explain the traffic chaos that will be caused during peak travel times if the bus gate is approved.
Harlow Conservatives are seeking an urgent meeting with the Deputy Leader of Essex County Council to secure a commitment that London Road will remain open, making the planning application unnecessary.
Cllr Joel Charles, who represents Old Harlow Ward, said:
"Harlow Conservatives remain opposed to the introduction of a bus gate which would close London Road to all other traffic. Newhall and Church Langley residents would be cut off from the rest of Old Harlow if the bus gate is given the go-ahead. Essex County Council agreed to defer the decision in 2017 and made a commitment to consult residents before any final decision is made. It is important that the original agreement secured back in 2017 still stands."
==================
Letter to Cllr Kevin Bentley, Deputy Leader of Essex County Council and Cabinet Member for Infrastructure:
Dear Kevin,
London Road Bus Gate Proposal
In 2017, plans were submitted to establish a bus gate at London Road between Newhall and Mark Hall School in Old Harlow, and close the road to all other motor vehicles. In response to this proposal, 1,700 residents joined the #DontCloseOLR Facebook group in a matter of weeks. After an unprecedented number of residents opposed the plans, Essex County Council agreed to defer taking the final decision until Junction 7a was open and operating.
We understand that opponents to the original planning application have received a planning notification letter (HW/REMVAR/20/00358) from Harlow Council that includes plans for a traffic assessment in line with the development of an additional 150 properties as part of Newhall Phase II. The planning application seeks to defer the review of the need for a bus gate until completion of the 917th property, around spring 2021. This has deeply concerned residents who were given clear reassurances in 2017 that no final decision would be made without further consultation about the impact. Cutting Newhall from the rest of Old Harlow would be wrong. London Road remains a key route for residents to access Gilden Way and the Old Harlow High Street. The new access road linking Newhall via the Harlow Science Park will not be able to cope as the standalone access road from the A414, particularly during peak travel times. We agree with local residents that the bus gate proposal should be abandoned.
It is important that Essex County Council stands by the 2017 agreement by reviewing the bus gate and consulting with local residents about the plans. We have always believed that the original bus gate decision should have been overturned rather than deferred to a later date.
We are keen to discuss this matter with you at the earliest opportunity to ensure the views of local residents are heard and action is taken to prevent traffic chaos on London Road.
Yours sincerely,
Rt Hon Robert Halfon MP, Member of Parliament for Harlow
Cllr Andrew Johnson, Leader of Harlow Conservatives
Cllr Joel Charles, Deputy Leader of Harlow Conservatives
Cllr Mike Garnett, Harlow North Division and Old Harlow Ward
Cllr Simon Carter, Church Langley Ward
Cllr Sue Livings, Old Harlow Ward