MP praises Harlow school for going above and beyond to support pupils and families
ROBERT Halfon MP, the Chair of the influential Education Select Committee, was full of praise for a Harlow school when he visited on BBC Children In Need Day.
Mr Halfon, the MP for Harlow, was welcomed by Annette Norris, the Head of Katherines Primary Academy, and by Jo Coton, the Chief Executive of the successful NET Academies Trust, which leads the school.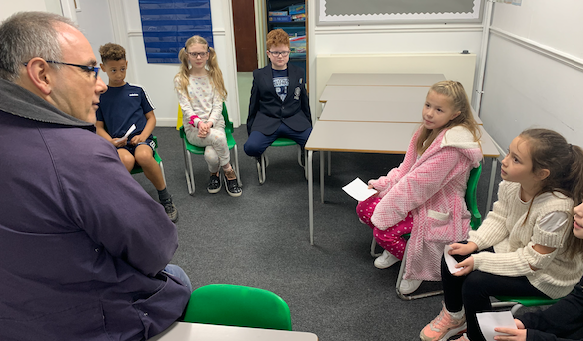 He discussed the excellent education that the pupils receive, including through the lockdown earlier this year when schools were closed except to vulnerable children and children of key workers, as well as the superb support that the school provides its pupils' families.
Mr Halfon also spoke with members of the School Council, which has representatives from each year group, about how they are coping through Covid-19.
Robert Halfon, MP for Harlow and Chair of the Education Select Committee, said:
"It was wonderful to visit Katherines on Friday and meet with the Headteacher and pupils from the School Council. I would like to thank the teachers and support staff for all the work that they have done and are doing to keep our children learning during the coronavirus crisis.
"I really appreciated sitting down with the pupils from the School Council who asked me a series of questions. It was a pleasure to be able to tell them a bit about the House of Commons, the mice in my office, Big Ben and Winston Churchill's Chair.
"Katherines is an example of how much schools in Harlow are doing to provide our children with a good education and they deserve a huge amount of credit. The hard working pupils are second to none and I wish everyone at Katherines good health during this difficult time.
"Once possible, I look forward to inviting the School Council members for a tour around Parliament."
Annette Norris, Head of School at Katherines Primary Academy, said:
"We were all delighted to meet Mr Halfon and so pleased that he visited. It gave a real boost to everyone at the school and the children asked him some very searching questions."