AN education commission is being set up by The Times that could lead to radical change across schools and universities reports The Times.
It brings together experts including senior MPs, head teachers, academics, vice-chancellors and a children's author who will work on the year-long project that is expected to inform government policy. They say school closures during the pandemic and the resulting surge in online learning have provided the perfect opportunity for an overhaul of the system to be considered.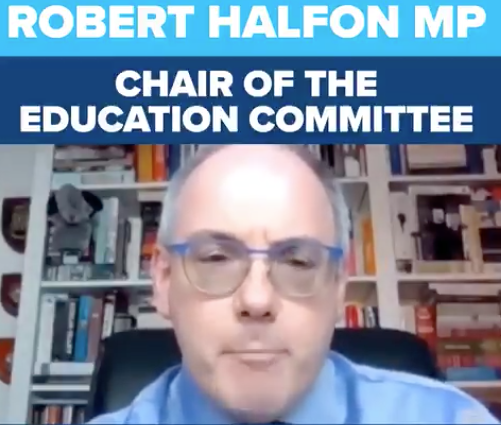 The commission will have a wide-ranging remit including the curriculum, qualifications, social mobility, exclusions, new technology, lifelong learning and the number of people going to university. It will begin its work in June and will conclude in the summer of next year.
Schools in England returned on March 8 after a second lockdown and millions of children have been out of the classroom for a considerable period during the past year. There are concerns that some will have fallen far behind and will need intense intervention to catch up. Gavin Williamson, the education secretary, has said that significant changes could be considered, including longer school days, shorter holidays and a different academic year.
Speaking at a No 10 press conference yesterday, Boris Johnson said: "If I look at the problems we face at the moment, in addition to the continuing healthcare threat, the legacy issue I think for me is education. It's the loss of learning for so many children and young people. That's the thing we've got to focus on now as a society."
While some schools initially struggled to provide online lessons, most can switch to remote learning during outbreaks and the majority of children now have devices. Head teachers say education has changed permanently.
Geoff Barton, general secretary of the Association of School and College Leaders, and one of the commissioners, has previously said children should not be cast as "educational victims" scarred by learning loss. The generation after the Second World War "craved looking to the future rather than dwelling on its backstory", he said, adding: "We're not going back to the way things were."
Yesterday he said: "We need a more fundamental approach that considers issues like ensuring schools have enough teachers, how we might improve our qualifications system, making school and college funding more sustainable and ensuring every child has access to high-quality early years education. This commission gives us a chance to take an important step away from the day-to-day and consider these questions."
Lord Johnson of Marylebone, the former universities minister, also on the commission, said: "There's been such a focus on getting back to normal that if we don't take care, we may miss the chance to build back better. This commission will hopefully help open up a conversation about an education system that prepares children for life, not just exams, and allows adults to re-skill throughout long working lives."
Change is already on the cards in higher education; vice-chancellors and the Office for Students are pushing for changes to admissions so that teenagers receive university offers after getting their A-levels or equivalent.
Professor Dame Nancy Rothwell, vice-chancellor of the University of Manchester, said: "Our world has changed greatly over the last few months, so education and skills will underpin the recovery and how we face the challenges ahead. I am looking forward to being part of the commission."
Sir Anthony Seldon, a former vice-chancellor and also former head of Wellington College, has pushed for changes to help young people's mental health, and advocates greater use of artificial intelligence. He said the school system was too arid, formulaic, procedural and lacked creativity. Of the commission, which he suggested and which he joins, he said: "For many years, it's been clear that the school system is no longer doing the job required of it. We have an education system profoundly linked to the 20th-century model.
"Covid has highlighted this even further. If there was a royal commission it would take five years, we don't have the luxury of that time. We need vastly to improve the education system and make it much better suited to the 21st century. Governments are too wedded to the status quo way of thinking."
Seldon said he hoped the commission's findings would feed into the academic year starting in September 2022. He said: "There is no point producing a marvellous report that sits on shelves. This has to be a call for action that has a very high impact."
John Witherow, editor of The Times, said: "Education has been in crisis this past year and it's time to take stock and see what needs to be done to reform it to give young people a better start in life."
Chairwoman
Rachel Sylvester
Commissioners
Geoff Barton General secretary of the Association of School and College Leaders. Former head, King Edward VI School, Bury St Edmunds.
Lord (Karan) Bilimoria Founder of Cobra Beer, president of the CBI and Chancellor of Birmingham University.
Sarah-Jayne Blakemore Professor of psychology and cognitive neuroscience at Cambridge University, who leads a group studying the adolescent brain and behaviour.
Sir Damon Buffini Founding partner of Permira, chairman of the National Theatre and chairman of the Culture Recovery Fund Board
Dame Sally Coates Director of secondary schools, United Learning, which runs 90 schools, and author of government review on education in prison.
Evelyn Forde Head of Copthall School, Barnet, and winner of TES headteacher of the year 2020.
Kiran Gill Founder, The Difference, which sends high-flying teachers into pupil referral units and Alternative Provision schools.
Robert Halfon Conservative MP for Harlow and chairman of the Commons education select committee.
Lucy Heller Chief executive of Ark, an education charity with 38 academy schools and a range of ventures bringing wider change to the education system.
Tristram Hunt Director of the Victoria and Albert Museum, former Labour MP and shadow education secretary.
Lord (Jo) Johnson Former universities minister, senior fellow at Harvard Kennedy School and chairman of TES (formerly Times Educational Supplement).
Paul Johnson Director of the Institute for Fiscal Studies.
Lucy Kellaway Teacher at Mossbourne Academy, Hackney, and founder of Now Teach.
Lady (Martha) Lane Fox Chairwoman of WeTransfer, chancellor of the Open University and chairwoman of Lords Covid-19 select committee
Michael Morpurgo Children's laureate and co-founder of Farms for City Children.
Heather McGregor Executive dean of Edinburgh Business School, Heriot-Watt University.
Anne Longfield Former children's commissioner.
Lord (Martin) Rees Astronomer Royal, former president of the Royal Society and former master, Trinity College, Cambridge.
Dame Nancy Rothwell President and vice chancellor of the University of Manchester, chairwoman of the Russell Group.
Sir Anthony Seldon Contemporary historian, authority on wellbeing and AI in education, and vice chancellor of Buckingham University.