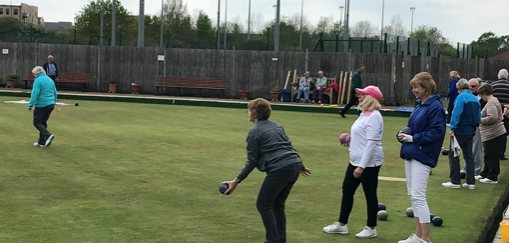 YOU can find The Griffin Bowls Club behind the Latton Bush Centre in Southern Way, hiding right at the back so that no one knows it's there!
With the club re-opening its doos, we asked the to tell us a little bit more about themselves.
A spokesperson said: "With our TWO beautiful greens, a substantial clubhouse with a bar – great for social events, and a friendly and forward looking membership, we are ideally placed to be a really important part of Harlow's Active Sporting Community.

We have a full fixture list for men's, ladies' and mixed teams. This includes friendly matches against clubs from Essex, Hertfordshire and London, and competitive matches in local, county and national competitions.
"Wednesday night is our Club night, when we encourage everyone to join in for practice and fun. It is also a time to introduce new members to the club. We have regular club events throughout the season and club internal competitions which culminate in our finals weekend in September and a Presentation Evening in November.

We have a full social events calendar throughout the year. We play Short Mat bowls in the clubhouse in the winter and even run a regular Whist Drive.
In the winter of 2019, we were given several accreditation certificates – Clubmark for being an efficient and well -run organisation, and Disability Mark, recognising that we are Disabled Friendly and working hard to become inclusive.
We were also awarded Active Harlow's Community Club Award and achieved National Recognition by winning the Love Fisher Brown award for our work with the disabled, beating clubs from all over the country.

"Disappointingly, all this hard work and recognition has been lost during 2020-21 because of Covid and it is now time to start to build the club up again, get our confidence back and reach the heights we were aiming for 18 months ago.

"With the help of Sport England, the clubhouse has had a makeover and we are all raring to go. The club is led by an enthusiastic committee who are striving to make bowling a pleasurable experience both physically and socially throughout the year for all. The aim is to make our club one of the best in the county, not only for its competitiveness but also for its friendliness and inclusivity".
Chairman Graeme Wallace added: "Whatever you want from Bowls, whether it's competitive bowling at a high level, social bowling or just to make new friends, you'll find it with us.

"We are all really happy to be back on the greens and hope to encourage people from every walk of life, from 9 – 90 and of any ability, to come and give the game a try. Why not come and join us on our Open Days on Sunday May 23rd from 1-4pm and Saturday May 29th and have a go!

"Just come along with a flat pair of shoes and we'll provide everything else you need".