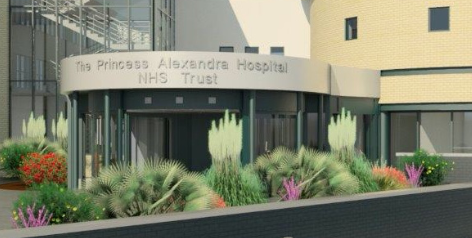 THE visiting guidance at The Princess Alexandra Hospital has been updated in response to the revised Government restrictions, referred to as Plan B, to limit the spread of the new COVID-19 variant, Omicron.
This is to ensure that the hospital can provide high quality care whilst keeping its patients and people safe. The key updates are:
Visiting has been suspended for adult inpatients, except for in exceptional circumstances, as detailed below
Children can have one visitor, who must follow all infection prevention and control guidance as advised by the nursing team

There are no changes to visiting for the maternity department – details of the current guidance can be accessed here

You must also:
Wear a face covering when visiting the hospital

All visitors must wash or sanitise their hands before and after visiting relatives – there are handwashing and sanitising stations located throughout the hospital
There are special arrangements for:

Visiting patients who are at the end-of-life

Carers where assistance is being provided for communication e.g. for patients with learning disabilities, dementia, mental health, emotional, religious or spiritual care needs
Virtual visiting and message to a loved one

Our visitor information service enables family and friends of inpatients to keep in contact with their relatives and stay informed about their care when they are unable to visit in person.
Please email [email protected] or call 01279 962661 (Lines open 9am-12pm) to arrange your ten-minute video call and find out how to join the call that will be hosted on secure video conferencing software, or to find out more about your loved one's care.
You can also keep in touch with your loved one by sending a message to them. Please email [email protected] or call 01279 962661 (Lines open 9am-12pm). You can read more about the message to a loved one service here.
Visiting in exceptional circumstances
How can I arrange my visit if I am a carer?
Please call the ward before you intend to visit and speak to the nurse in charge or matron to discuss how we can support you and our patient.

Before visiting the hospital
On arrival on the ward a member of staff will ask you a few questions:
If you are displaying any current symptoms of COVID-19
If you or any members of you household have high-risk conditions
Our team will then advise whether it is suitable for you to visit the hospital
please ensure you scan the NHS Track and Trace QR code to register your visit.
Sharon McNally, director of nursing, midwifery and allied health professionals at The Princess Alexandra Hospital NHS Trust, said: "We are implementing changes to our visiting guidance to protect our patients, their loved ones and our people as we respond to the latest information about the COVID-19 variant, Omicron.
"We understand how important visits are for the holistic care of our inpatients and we encourage all to use our virtual visiting service, with an opportunity to keep in touch with your loved ones while they are in hospital by video call. There is also the message to a loved one service, where you can send special messages to inpatients on our wards that are delivered to them each day. We appreciate the support of our patients and their families."