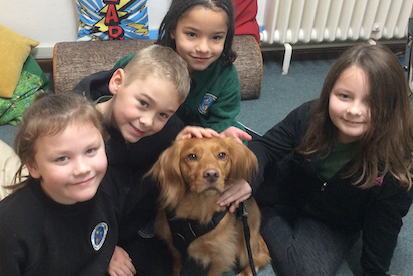 BERTIE, the two-year-old Cocker Spaniel, has joined Cooks Spinney Primary Academy as a registered Essex Therapy Dog.

He spends time with small groups of children to help to improve their emotional wellbeing and to provide comfort and calm.

The new addition to the school lives with office assistant Jo Wilson.

She said: "Cooks Spinney has a new four-legged weekly visitor! Following lockdown and the well documented effect on mental health, Bertie the therapy dog has joined the Cooks Spinney community.

"Bertie's constantly wagging tail and gorgeous friendly eyes bring joy to all who meet him. He spreads calm and happiness wherever he goes and the children adore him. They really look forward to his visit.

"The benefits of spending time with a therapy dog are clear for all to see; you just need to look at the children's faces as they light up when they see him. He has a noticeable calming effect on the children's mood.

"Bertie gets super excited when he wears his special harness as he knows he will be spending his afternoon with the children."