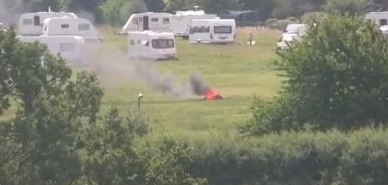 THE number of unauthorised encampments in Essex has fallen by more than two-thirds since 2018 after work by our Rural Engagement Team.
Unauthorised encampments (UEs) occur when trespassers occupy land belonging to private landowners or public authorities without permission.
As trespass is a civil rather than criminal offence it falls under the authority of local councils, however police officers do have the power to evict people from unauthorised encampments under Sections 60C and 61 of the Criminal Justice & Public Order Act.
These powers will be used where behaviour or conduct is inappropriate, or where the impact of an encampment on others is deemed unacceptable.
Sergeant Ben Felton said RET officers' practical approach and detailed knowledge of the law has seen numbers of unauthorised encampments fall from 171 in 2018 down to 52 this year.
He said: "Between April and September, a good 50% of our work is dealing with unauthorised encampments.
"What is different to many other forces in the country is that our team goes to every single UE. We've become experts at dealing with them.
"We talk to the people who come here and lay out our expectations. If they don't stick to the rules, they'll be politely moved on, and we make sure they understand why they're being moved.
"Previously we were managing between 10 and 15 UEs at a time. That number is now down to between two and four. The people who don't want to work with us have mainly stopped coming here."
Reasons that people forming an encampment may be asked to move on include disrupting locals' access to amenities like parks or football pitches, affecting the local economy by camping in shops' car parks or on agricultural land, or if there have been instances of anti-social behaviour.
Changes in the legislation now mean that officers don't need to know who the landowner is move an encampment. This prevents people evicted from one camp being able to set up another in the same area.
Sgt Felton said a key aspect of the team's work was having good lines of communication with both the people at the encampments and the local communities where UEs have occurred.
"It's about managing the rights of the people to enjoy their chosen way of life, and the concerns and rights of local communities and the landowners.
"We are very sensitive to how we deal with them, but we are robust. Once the locals see we are coming back daily to monitor the sites, they understand that we're doing what we can. We've had emails from parish councillors thanking us for how we've dealt with situations.
"We're taking a common-sense approach and making sure there is consistency in the way we're applying the legislation. We're balancing the needs of both sides to let everyone get on their lives."