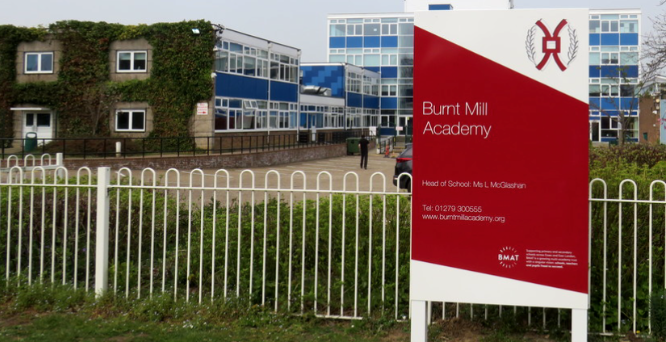 BURNT Mill Academy has been graded Good by Ofsted following the first full inspection of the school in over a decade.

Under new inspection framework, Burnt Mill matches a national trend where 60% of schools previously graded Outstanding have been downgraded (Source BBC News).

All areas of the school; The quality of education, Behaviour and attitudes, Personal development, and Leadership and management are rated good, contributing to the Overall effectiveness grade.

Inspectors have praised the school leadership for their development of the school curriculum noting the high-quality training provided to teachers to ensure subject specialists teach it effectively.

Pupils were observed in and out of class, with inspectors noting the keenness to contribute to lessons and wide range of extra-curricular activities almost all pupils participate in.

Safeguarding arrangements have been highlighted as effective with well trained staff and clear reporting and monitoring processes in place.

Headteacher, Laura McGlashan has praised the staff at the school for their hard work and commitment to the students and thanked the pupils and their families for their continued support stating

"I feel that this report is a fair reflection of where the school is at with many positives highlighted. There are areas both Ofsted and I agreed we need to improve on, and we have already implemented new processes for communicating with parents and carers.

I am immensely proud to be the Headteacher of Burnt Mill and know that staff and pupils work closely to make the school a place where pupils feel safe, happy and learn a lot. I will be relentless in working on making the school even better.

Thank you to all the staff, pupils and families for your continued work and support in delivering a high- quality education for our students.

The school rebuilding project is well underway, and I am really looking forward to seeing our pupils enjoy the state-of-the-art facilities when they are ready in the next couple of years. "

BMAT CEO, Helena Mills CBE has thanked the staff, students, and families commenting
"a lot has changed both locally and nationally in education and the way schools are inspected. The
Good grading is a testament to the hard work of not just the staff but the students and parents who all contribute to life at Burnt Mill now.

With the school rebuilding project underway, we're looking forward to providing a BMAT education in state-of-the-art facilities for many more Harlow families for years to come."
=======================

THE OFSTED REPORT
What is it like to attend this school?
Pupils learn in a disruption-free environment where pupils behave well. They are keen to contribute to interesting lessons and have many opportunities to discuss and debate ideas. Pupils receive appropriate support, where they need it, as teachers regularly check what they know.
Leaders have ensured that a new curriculum, with high expectations, is now in place. Pupils now build the depth and breadth of their knowledge effectively over time. They learn important knowledge well and produce high-quality work. Some pupils leaving school have not made the progress they should in some subjects. This is because of weaknesses in the previous curriculum that have now been addressed.
Pupils are happy and safe. They have trusted adults who they go to if they have worries. Pupils value worry boxes and kindness buddies. Those who need extra support can talk issues through with staff and resolve them. Some pupils and parents still have worries about how issues such as bullying are followed up, as staff do not always communicate their actions well enough.
Almost all pupils participate in a rich range of extra-curricular opportunities. They take pride in their 'Be More' passports, where they record the range of challenges they participate in.
What does the school do well and what does it need to do better?
Leaders identified that the previous curriculum, which included early entry to examinations, did not help some pupils to achieve as well as they could. Pupils studied a wide range of subjects, but some did not build the depth of their knowledge well enough over time. Consequently, some pupils did not make the progress they should. Leaders have developed a new curriculum to address this effectively. Pupils now build the depth of their knowledge, from Year 7 to Year 11, well. Leaders have increased significantly the number of pupils entering the English Baccalaureate (EBacc). The EBacc is a set of subjects that provides a pathway to higher-level qualifications and offers a broad foundation of knowledge.
Leaders have involved teachers in developing the new curriculum. They have provided high-quality training to ensure subject specialists teach it effectively. Pupils now learn and retain important knowledge well. They produce high-quality work. Teachers use a range of highly effective ways to check what pupils know. They adapt learning effectively where pupils need this.
Leaders check closely that pupils with special educational needs and/or disabilities (SEND) have their needs identified effectively. Pupils with SEND receive the support they need to be fully included in the same learning as their classmates. Consequently, pupils with SEND achieve well.
Pupils who struggle with reading receive targeted support which helps them to read more fluently. Teachers ensure that lessons are accessible and suitably adapted for early readers. Many pupils have developed a love of reading. What they read is tracked and celebrated.
Pupils listen well and actively take part in lessons. Leaders have set high expectations about conduct, so disruption to learning is rare. Pupils behave in a calm and orderly way around the school, as staff apply expectations consistently. Pupils attend well as they want to come to school. Leaders ensure that appropriate support and follow-up are in place when pupils do not meet expectations or have worries about how others have behaved towards them. However, leaders have not always communicated their actions well enough, so some pupils and parents question the effectiveness of these.
Pupils benefit from a rich range of well-attended extra-curricular opportunities. They have meaningful opportunities to develop their leadership skills through roles such as prefects. Leaders have ensured that pupils develop their understanding of spiritual, moral and cultural issues well. For example, pupils recently explored issues of euthanasia and the death penalty. Pupils benefit from a well-planned programme of careers education that gives them high-quality access to employers.
Leaders engage effectively with staff. They appropriately consider staff workload and well-being. Leaders have not always communicated with parents well enough, so some are not fully supportive of leaders' actions.
Safeguarding
The arrangements for safeguarding are effective.
Leaders have ensured staff are well trained to be able to identify safeguarding issues and where pupils might be at risk. Leaders work effectively with external agencies to secure the support pupils need.
Leaders diligently maintain safeguarding records and have made sure effective safer recruitment processes are in place. Staff are clear about who to report concerns to.
Leaders have put in place a well-planned programme of personal, social and health education and relationships and sex education, so pupils are well informed about risk. Pupils have a range of staff they can share worries with.
What does the school need to do to improve?
(Information for the school and appropriate authority)
◼ The previous curriculum in some subjects did not enable pupils to develop a deep and secure understanding of important subject knowledge. As a result, in these subjects, some pupils have not made the progress they should over time.
Although leaders have now taken action to implement a new effective curriculum, leaders must ensure that this new curriculum enables all pupils to build the depth of their knowledge effectively over time, so that pupils make the progress they should.
◼ Leaders have set high expectations for pupils' behaviour which are largely followed. Although suitable support and follow-up are in place to support pupils effectively where they do not meet these expectations, leaders have not always communicated well enough with parents regarding this. This includes communication regarding the effective support that is put in place to support pupils' well-being. As a result, some parents and pupils question the effectiveness of support and follow-up, as they have not had it well enough communicated to them. Leaders need to ensure that support and follow-up regarding concerns about behaviour or bullying are clearly communicated, so parents and pupils feel confident about the support they receive and how incidents are addressed.