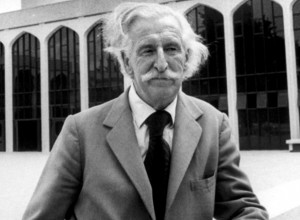 WE would just like to take a moment to say Happy Birthday to Sir Frederick Gibberd who would have been 110 today (January 7th).
It would have been remiss in any year but as we have just been celebrating Harlow's 70th birthday, we thought it only right to remember the date.
Below is the entry on Wikipedia.
"Gibberd was born in Coventry, the eldest of the five children of a local tailor, and was educated at the city's King Henry VIII School. In 1925 he was articled to a firm of architects in Birmingham and studied architecture under William Bidlake at the Birmingham School of Art, where his roommate was F. R. S. Yorke.[1]
A good friend of Sir Geoffrey Jellicoe, Gibberd's work was influenced by Le Corbusier, Mies van der Rohe, and F. R. S. Yorke. He set up in practice in 1930, designing Pullman Court, Streatham Hill, London (1934–36), a housing development which launched his career. With the success of this scheme, Gibberd became established as the 'flat' architect and went on to build several other schemes including Park Court, Sydenham, London (1936) and Ellington Court, Southgate, London (1936) continuing to practice until the outbreak of the Second World War.
Gibberd and Yorke collaborated on a number of publications including the influential book 'The Modern Flat' which was published in 1937 and featured the then newly completed Pullman Court and Park Court, as well as many other European examples.
He was consultant architect planner for the Harlow development and spent the rest of his life living in the town he had designed. His most notable works here include The Lawn, Britain's first modern-style point block, consisting of nine storeys arranged in a butterfly design on an area of open ground surrounded by oak trees; a tromp-l'oeil pair of curved terraces facing a cricket green at Orchard Croft, which won a British Housing Award in 1951; the pioneering broken-silhouette flats in Morley Grove; and much of the housing in Mark Hall neighbourhood, which is in its entirety a conservation area. The Harvey Centre lacks architectural distinction, but is notable as an early British example of a large purpose-built indoor shopping mall. His similarly pioneering Sports Centre has been demolished, as has the original town hall. The Water Gardens, although listed by English Heritage, have been spoilt by the abutment of a car park and shopping centre. The garden of his personal home at Marsh Lane (Gibberd Garden), on the outskirts of Harlow, a mixture of formal and informal design, contains architectural elements salvaged from his reconstruction of Coutt's Bank in London.[2]
A further achievement by Gibberd in planning Harlow is his incorporation of works by many leading architects of the post-war years, such as FRS Yorke, Powell & Moya, Graham Dawbarn, John Poulson, Maxwell Fry & Jane Drew, Michael Neylan, William Crabtree, Leonard Manasseh, ECP Monson, Gerard Goalen, Gerald Lacoste, Richard Sheppard and H. T. Cadbury-Brown. A substantial collection of public sculptures is visible around the town, including works by Henry Moore, Elizabeth Frink, Auguste Rodin and Barbara Hepworth.
Gibberd wrote "Harlow: The story of a New Town" in collaboration with Len White and Ben Hyde Harvey. In 1953 he published Town Design a book on the forms, processes, and history of the subject.