THE number of high-rise buildings identified as having potentially dangerous cladding has jumped by 50% in one month, according to the government.
And among the buildings is Occasio House, situated opposite the Harlow Playhouse. The 116 flats were opened in 2001 for young people who were caught in a "no home-no job"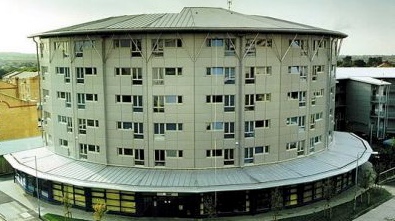 cycle.
Occasio House is not in use at the moment. YH understands that is owned by L and Q Housing Association.
We have contacted them for a comment.
There were 470 buildings identified as having cladding systems that would likely not meet Building Regulations guidance, compared with 311 buildings identified in May, according to a monthly data release from the Ministry of Housing, Communities & Local Government yesterday.
In comparison with the previous month's count, an additional 156 private sector buildings were identified by local authorities as containing "similar ACM cladding systems to those which have failed large-scale tests" while three others had failed Building Research Establishment testing. ACM refers to aluminium composite material, the sort of cladding used on Grenfell Tower.
Of the 297 privately-owned residential blocks with unsafe cladding, only four buildings have completed remediation works while 21 other buildings have started remediation work. In the social housing sector, only 15 of the 159 buildings with dangerous cladding identified had completed remediation work while it had begun on 111 buildings.
Asked to comment on why this information on private buildings had taken one year to materialise, a ministry spokesperson said councils had been required to provide this information "by the end of May".
"Now we have the figures we will continue to work with councils to ensure the complex work of remediation happens as quickly as possible. In the meantime, the fire and rescue services are working with building owners to ensure residents are safe now," the spokesperson said.
Meanwhile, housing and communities secretary James Brokenshire has launched a government taskforce to identify cladding types in use on private tower blocks higher than 18 metres.
Darren Rodwell (Lab), London Councils' executive member for housing & planning, said: "The government needs to commit to faster progress in making sure this remedial work is carried out to a high standard and as quickly as possible.
"London boroughs have worked hard over the past year to carry out safety checks in publicly-owned high-rise buildings, but it has proved much harder to identify the privately-owned blocks with potentially unsafe ACM cladding. The government is right to set up this task force, which must bring about more speed in identifying these buildings and encouraging private landlords to work with the relevant experts in taking remedial action."
The real number of buildings containing unsafe cladding is expected to rise even further, Parliament heard earlier this month.
Shadow housing secretary John Healey said that 1,319 cladding samples which had been sent to the government's testing centre had not been tested, because the government was only testing ACM cladding.
Fire safety experts have raised concerns to the government that other types of cladding that resemble ACM cladding are just as hazardous.