Robert Halfon MP Takes Hospital Car Parking Charges Protest To Theresa May's Doorstep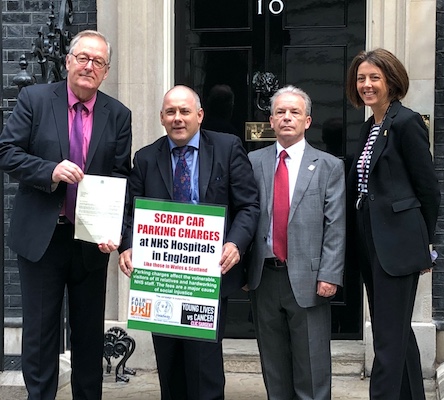 A petition calling for an immediate end to charges at all NHS hospitals was hand delivered to Number 10 Downing Street this morning by Harlow MP, Robert Halfon, Howard Cox, Founder of FairFuel UK, Kate Lee, Chief Executive of CLIC Sargent, and Peter McCabe, Chief Executive of Headway.
Hospital car parking charges affect the vulnerable, visitors of ill relatives and hardworking NHS staff. The fees are a major cause of social injustice.
In 2014, the Government introduced guidance suggesting free or reduced parking should be available for staff, blue badge holders and visitors of gravely ill relatives. Since then, 47% of hospitals have increased their hourly parking charges and almost half still charge blue badge holders.
Robert Halfon MP, who has been campaigning for four years on this issue, said:
"Hospital car parking charges are a stealth tax on the sick, a stealth tax on the vulnerable, a stealth tax on families, and a stealth tax on our hardworking NHS staff. Our petition urges the Government to scrap hospital car parking charges once and for all."
The online petition has received over 25,000 signatures and is backed by major charities and motoring organisations.
The petition can be found here: https://petition.parliament.uk/petitions/219650