ST Clare Hospice celebrated the official launch of their new shop, Scarlet Vintage & Retro, on Saturday 20th October at their public Grand Opening event. The vintage charity store – specialising in clothing, accessories, homeware, collectables and memorabilia from the 90s and earlier – is now officially open for business at 3 Broad Walk in Harlow's town centre.
Hundreds of local St Clare supporters turned up throughout the day to visit the new shop, boosting sales and generating hundreds of pounds for the Hastingwood-based hospice. Cutting the ribbon at the launch was Harlow MP and St Clare Hospice Patron, Robert Halfon, who attended to support the launch of this brand-new addition to Harlow's Broadwalk.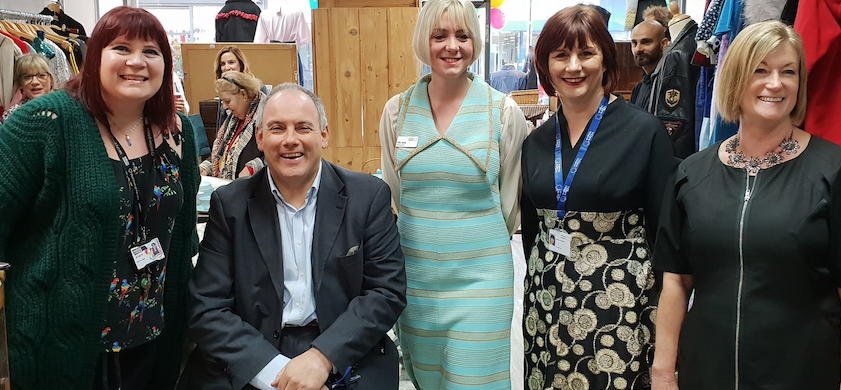 Robert Halfon MP commented: "I was delighted to support St Clare by cutting the ribbon at the grand opening of their new vintage shop in Harlow on Saturday 20th October. I can see already that Scarlet Vintage & Retro is a hit with local people, and it is a great new addition to Harlow's Broad Walk. Having a unique shop like this, that celebrates individual style and sustainable and ethical fashion, is just what the town needs. St Clare is a very special place which I am proud to be Patron of, and it is fantastic that Scarlet Vintage & Retro will be raising vital funds so the Hospice can continue providing their outstanding care, free of charge, to local families."
The Grand Opening event also featured entertainment from 1960s-inspired Swing singer, Loula, along with refreshments and an extensive collection of pre-00s goods for visitors to browse and shop. The store, now just four weeks after opening its doors to the public, has already generated thousands in vital funding for the West Essex and East Herts based charity, St Clare Hospice. However, this valuable new shopping outlet situated at the heart of Harlow town plays much more of a role in the local community than a charity shop alone.
Scarlet (an anagram of St Clare) is already on the map as a community hotspot just weeks after opening. From the moment it opened its doors the shop has championed meaningful partnerships with other local organisations, including Harlow charity Rainbow Services, Harlow College, and former local community hub, The Square.
At the Grand Opening event, Scarlet Vintage & Retro displayed impressive, creatively upcycled garments fashioned by Harlow College students, alongside transformed homeware refurbished by Rainbow Services' Workshop project. Adam Smith, a representative from The Square, also donated a wall-sized family tree illustrating the history of musical acts who have performed at the venue, in addition to performing a complimentary DJ set at an exclusive pre-launch event at the shop.
Shop Manager at Scarlet Vintage & Retro, Tracey Chippett, commented: "Scarlet Vintage & Retro is much more than just a shop. Harlow sometimes gets bad press, but here at Scarlet we recognise that there is just so much to celebrate in our wonderful town. Our 'Big Up Harlow' noticeboard, and collaborations with other incredible local organisations, is all about showcasing the remarkable wealth of talent, innovation and community spirit we have here. The shop offers people the opportunity to feel proud of Harlow, and to find out more about St Clare Hospice's care and support that is available for local people living with a life-limiting illness. It's all about togetherness and community, and also doing your bit for the environment through the power of sustainable fashion!"
Tracy added: "We'd like to say the biggest thank you to everyone who has supported Scarlet Vintage & Retro so far. In the short time that we have been open, we have raised thousands for St Clare, and enjoyed seeing so many lovely, local faces coming in to enjoy some retail therapy. This is just the beginning, and we are so looking forward to what the future holds for Scarlet. If you haven't come by to visit us yet, be sure to pop in, as there really is something for everyone! Our vintage, retro and upcycled goods on offer are so on-trend – and would make perfect Christmas gifts too!"
St Clare Hospice is currently recruiting for volunteers to lend a hand at Scarlet Vintage & Retro. If you would like to join St Clare Hospice as a volunteer at Scarlet Vintage & Retro, please contact Voluntary Services Manager Rob Wallace on 01279 773722 or email [email protected]
For more information on this volunteering role, visit: stclarehospice.org.uk/volunteervacancies