A charity near you needs your help.
Are you up for a challenge?
Stepping off into the unknown!
THE Harlow Tye Rotary Club are ready and able to offer you that challenge. On the Saturday 4th May and Sunday 5th May 2019, they will be offering you the opportunity to abseil from the top of the Affinity water tower.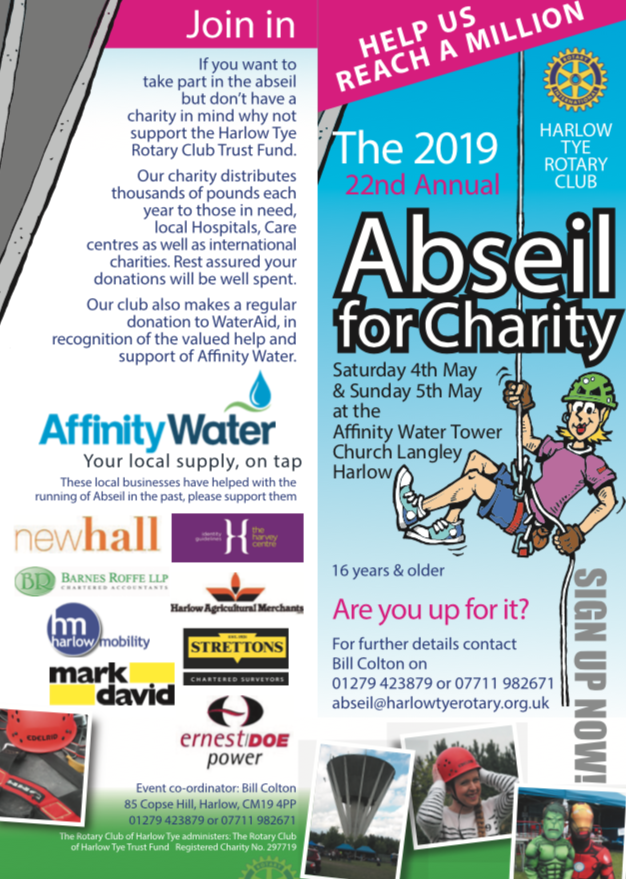 This will be their 21st year of offering this unique opportunity. When the Rotary Club started the abseil, they intended it to be a one off, however, it was so successful that they have continued each year in early May for the past 20 years.
A spokesperson said: "We have averaged 200 people for each of the previous 20 years but as it's our 21st birthday we are asking more of you come and join us.
"As well as it being our birthday, we have set ourselves a further goal of breaking the one-million-pound barrier (£1,000,000) this year, we are currently at £960,000.
"By giving up one hour of your time, think of all the people you can help? Choose a deserving cause, get your family, friends and work colleagues to sponsor you and come and join us.