Collaboration by Ronald Harwood
MHP Theatre-The Stow.
THIS WAS not easy theatre on a Friday night but it was richly rewarding. It is testament to MHP Theatre that they present as wide a variety of theatre as possible.
The title "Collaboration" has a two fold meaning. At the outset, we see a declining composer Richard Strauss pining for some creative re-birth from working with Austrian novelist and playwright Stefan Zweig.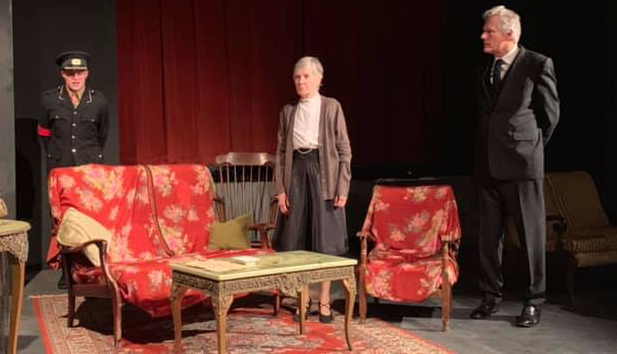 They begin collaborating on an opera based on Ben Jonson's The Silent Woman, but as the power of the Nazis increases, so does the pressure on Strauss to dissociate himself from Zweig, a Jew, or face the consequences.
Steve Broad plays Strauss. This reviewer feels it takes a while for us to warm to Strauss or indeed for Steve to get into the character but it is later on that he is a revelation as he totally inhabits the character's fatal dilemma. There is a book about German citizens in this period called "Hitler's Willing Executioners" There is one moment late on where he sits in a chair, realising that he may, just may, have betrayed his collaborator or realise that his strategy may well be defined as "collaborating with the Nazis". Steve's stillness, and dark foreboding look into the abyss, arguably sum up the circumstance of millions of Germans. It is both a brilliant piece of acting and directing.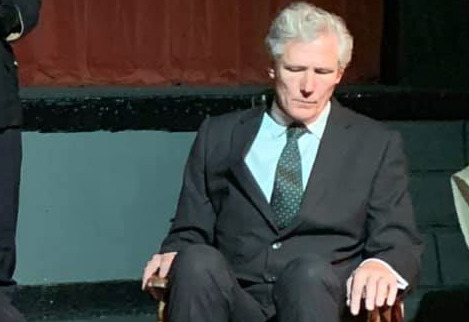 Steve is ably assisted by Jenny Southwell as his wife, Pauline Strauss. She is also, early on, a prim housewife but as things change she becomes a force for resistance. Jenny delivers some fantastic lines especially when confronting Nazi Hans Hinkel. He is played by Ray Calleja. Ray is outstanding as the cold, charmless, young Nazi, sent to instruct and intimidate the Strauss'. His delivery, stance and intonation were perfect.
We understand that it has been while since Chris Redman, who played Stefan Zweig, had tred the boards. It did not show. His portrayal of the writer suddenly cast into the horrors of the Nazi regime was very poignant. He just wanted to be left to work, to create. Chris beautifully conveys the tragedy of an artist slowly torn from his art.
Credit must also go to young actress Gracey Dorling, who plays Charlotte Altmann. Gracey plays the role with a sincerity and a sad fatalism that events will end badly. However, she does deliver a line of heartfelt warmth when they'd decide to leave. Her positive "We will also be wandering Jews" is a wonderful sliver of hope.
Chris Millington's direction is disciplined and unfussy. It enables us to concentrate on the characters and the dialogue. He has clearly got the best out of his actors.
A very rewarding evening.