EPPING St John's Church of England School is today celebrating its best ever A-level and BTEC results.
Year 13 students eagerly opened their results today at the sixth form centre, in Epping, after this summer's exams.
Every student – 100 per cent – achieved at least a Pass in either an A-level or BTEC course.
Fulin Baki, head of sixth form, said: "I am delighted with this year's A-level results. The students' hard work and dedication over the last seven years has shown in their achievements and today we are celebrating their reward.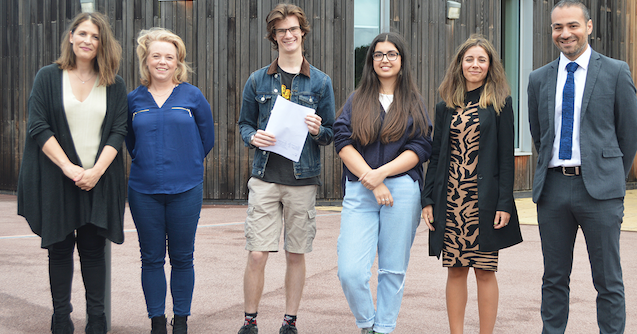 "Many of our students have achieved places at their university of choice and some have exceeded expectations.
"I am wishing all students the best in their future and I am looking forward to celebrating success again in years to come."
Mike Yerosimou, head of school, said: "The results achieved in mathematics, English literature, history, philosophy and ethics and fine art – to name but a few – are really outstanding. These results go to show that hard work from students coupled with dedicated and passionate teaching staff really is the recipe for success.
"I must also mention the exceptional achievements in our vocational courses and BTECs. We are an inclusive sixth form and our mixed pathway of A-level and  BTEC really has allowed many of our students to succeed.
"Everyone at Epping St John's is delighted that 100 per cent of our students achieved at least a Pass in either an A-level or BTEC qualification.
"We would all like to wish our wonderful Year 13s the very best of luck in their future destinations; be that university or the world of work."
The sixth form recently launched a new vision as it continues to grow. It states: "Our sixth form creates a caring and inspirational learning environment within the context of Christian values where every student is highly valued. We strive to develop confidence and independence and make our students believe in themselves. We strive to pursue exceptional in everything we offer to provide a bright and successful future for all."

Popularity: 1% [?]