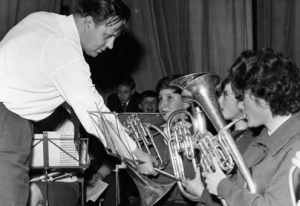 AN INSPIRATIONAL teacher who started the Harlow Youth Band at Netteswell School has passed away.
George Atkinson, a musician who inspired many as a teacher and brass band leader, has died at the age of 94.
Mr Atkinson started award-winning brass bands wherever he went. His successes included founding the Ehenside Youth Brass Band which came third in the World Music Festival in Holland in 1970 reports Times and Star in Cumbria.
https://www.timesandstar.co.uk/news/18417278.inspirational-musician-teacher-dies-94/
Mr Atkinson was born in Maryport to blind parents who brought him up in a home filled with music. His mother sang and his father was a piano tuner.
When his own musical talents became evident, his father borrowed money to buy George his first piano. He also practised on the grand piano at the Maryport Settlement, where the warden was so impressed he paid for piano lessons for the boy.
He made such progress that at the age of 16 he became a pupil of the eminent Dr Wadely, organist at Carlisle Cathedral.
Mr Atkinson worked as an apprentice engineer at Silloth Airfield before being called up for National Service.
By this time he was also a popular concert pianist, playing a wide range of music.
Following National Service, he trained as a teacher.
He and his wife Florence moved to London so he could study at Goldsmiths College, University of London, where he developed his interest in brass band conducting and arranging.
Mr Atkinson established his first youth band at Netteswell School in Harlow culminating in one of the highlights of his musical career when he conducted the band at the Royal Albert Hall.
Netteswell School was located where Harlow College now sits.
When the family returned to Maryport he began teaching at Ehenside School. He also travelled the country adjudicating at brass band contests.
While head of music at Whitehaven Grammar he started the West Cumbria Youth band. Under his direction the band continued until his retirement.
After retirement he taught privately, mentoring many young musicians who then went on to pursue musical careers either as performers or teachers.
Mr Atkinson was also an accomplished composer and arranger, composing original works for the youth bands. He also arranged music for Flimby Male Voice Choir where he was musical director for several years.
Mr Atkinson is survived by his children Aileen, Lynn and Derek, his grandchildren and a great -granddaughter.
A memorial service will be held once the lockdown is lifted.