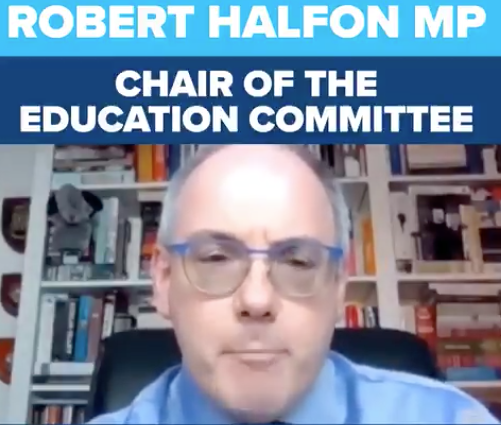 HARLOW MP Robert Halfon's Education Committee has warned that young people risk missing out on deserved results in this year's system for awarding grades.
The cross-party Education Committee's report acknowledges the swift response of the exam regulator Ofqual and the Government in rising to the immense challenge of devising alternative arrangements for awarding grades after the cancellation of national exams due to the coronavirus pandemic. Teachers have also done their very best in exceptional circumstances to provide grades for their pupils.
The report finds however that this year's system raises three significant concerns.
1. Fairness:
a) Bias – The Committee received numerous submissions on the potential for unconscious bias to affect calculated grades (1), outlining how particular groups, including pupils from low-income backgrounds, black, Asian and minority ethnic (BAME) pupils, and pupils with special educational needs and disabilities (SEND), could be adversely affected.
b) Ofqual's standardisation model (2) aims to adjust grades to ensure they are broadly in line with previous years. However, there are concerns about the risks of using historic data, which might not be fair for newer schools, or for improving and turnaround schools which are on an upward trajectory.
c) The appeals system favours the 'well-heeled and sharp-elbowed' who know how to navigate the system. The criteria of bias and discrimination set out by Ofqual will be incredibly hard for individual students to ascertain and to prove. After pressure from the Committee, Ofqual have agreed to a helpline but this does not go far enough to level the playing field.
Pupils with SEND, or their families, must be able to see the evidence used to calculate their grade. If the right access arrangements were not in place for the work used or if evidence from SEND specialists was not used if appropriate, the pupil should be able to appeal on the basis of malpractice or maladministration.
2. Lack of support for students sitting autumn exams:
The Committee is pleased that dates for the autumn exam series were confirmed on Thursday 9th June, as called for in the report. The Department for Education must now set out how students will be supported with teaching ahead of sitting these exams.
3. Catch-up funding unavailable for post-16 pupils:
The pandemic's impact on learning loss does not stop when pupils turn 16. Post-16 learners, whether they are resitting key English and Maths GCSEs, or preparing to sit final exams before entering higher education or the workplace, deserve proper catch-up support. The Government must extend catch-up funding to include disadvantaged post-16 pupils to ensure this is not a lost generation.
Rt Hon Robert Halfon MP, Chair of the Education Committee, said: "The cross-party committee recognises the enormous work clearly undertaken by the Department for Education and Ofqual during the coronavirus pandemic and accepts that no system developed for awarding grades will be perfect.
However, we have serious worries about the fairness of the model developed by Ofqual. There is a risk it will lead to unfair bias and discrimination against already disadvantaged groups and we are far from convinced that the appeal system, which will be more important than ever this year, will be fair.
Listen to our Chair @halfon4harlowMP discuss our report on #exams2020 and how to make this year's system fairer.

Read more about our report:https://t.co/0VVF31BDK7 pic.twitter.com/DMnLH3m3sW

— Education Committee (@CommonsEd) July 11, 2020

">


The appeals process seems to favour the well-heeled and sharp-elbowed and there is the potential for the system to resemble the Wild West of appeals with different systems used by different exam boards.
The lack of guaranteed support from the DfE for pupils and students doing autumn exams means there isn't a level playing field for those students. The absence of a post 16 catch up fund exacerbates these problems.
We urge Ofqual to be fully transparent about their standardisation model and develop a state-of-the-art appeals system that is genuinely fair to all students whatever their background. There is still hope that all young people will get what they've earnt but Ofqual and the Government must act now so this generation can go on to flourish in their future work and education."
The report is part of the Committee's work examining the effect of COVID-19 on education and children's services and follows the cancellation of this summer's national exams. It makes recommendations relating to the calculated grades system, the role of Ofqual and the impact on disadvantaged groups.
The full report can be found here.
https://publications.parliament.uk/pa/cm5801/cmselect/cmeduc/617/61703.htm