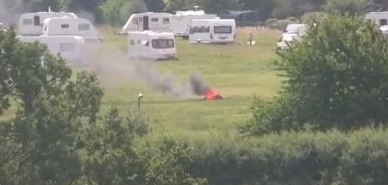 HARLOW'S MP, Robert Halfon recently met with the Essex Police, Fire and Crime Commissioner, Roger Hirst, to discuss Harlow Council's decision not to renew the injunction against unauthorised encampments. Mr Halfon asked for a clear action plan of how the issue would be dealt with should the encampments spring up in Harlow.
Mr Halfon said: "The decision from Harlow's Labour Council not to renew the injunction against unauthorised encampments is deeply worrying. Understandably, anxious residents are asking whether or not the Council have held the white flag for unauthorised groups to trespass our town, once again.
"I will do everything possible to ensure that this issue is dealt with and I will continue to raise it in Parliament. I met with the Essex Police Commissioner to discuss how the police will deal with the issue, but he too expressed his concern that Harlow no longer has an injunction. It is surprising that the Council held no consultation prior to making this decision – even with the Police Commissioner – who told me he had no knowledge of what Harlow Council was planning.
"Our town is emerging from the biggest crisis we have faced in decades because of the coronavirus. I've worked hard to secure, from the Government, over £32 million in grants and support for Harlow residents and businesses. After having struggled through this time, it seems wrong that residents should now be asked to spend their hard-earned council tax money – as happened last time – cleaning up the waste left by these unauthorised encampments, or fighting the anti-social behaviour."
Roger Hirst, Police, Fire and Crime Commissioner said:
"I was pleased to meet with Robert Halfon MP to discuss these important issues. Robert works very hard to keep our community safe.
"Unauthorised encampments can cause significant distress to local residents and have a big impact on local communities. Since being elected in 2016 we have worked hard with local councils and Essex Police to ensure a consistent, robust approach is taken where necessary to managing these unauthorised encampments and supporting vulnerable people.
"The introduction of the Rural Engagement Team within Essex Police in 2017 established a specialist, focused team to work across local communities to understand and deal with the impact of unauthorised encampments, whether they are in rural communities or urban areas.
"The development of the unauthorised encampment protocol in 2017 with the support of the Rural Engagement Team established a consistent approach across the county. In this time, the number of unauthorised encampments has fallen from 365 in 2017 to 201 in 2019; in the current year to date there have been just 65 unauthorised encampments."
"This year, due to extra funding, the size of the Team will increase, further adding to their ability to focus on the issues and criminality that affect communities."
"Where antisocial behaviour is committed I am confident Essex Police will take a firm approach to enforcement, so communities should feel confident that this is the case."